Adjusting bus capacity for COVID-19 protocols
COVID-19 concerns pose distinct challenges for public transit providers. In an NSF-funded project, Vanderbilt engineers are applying artificial intelligence to analyze Nashville and Chattanooga bus occupancy as well as changes in overall demand for public transit.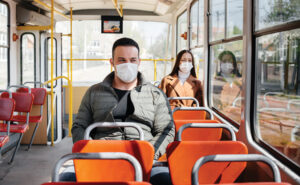 The goal is a real-time map of available seats within physical distancing protocols available for public use. Abhishek Dubey, assistant professor of electrical engineering and computer science, likens the map to how seats are selected on ticket sales websites for concerts or sporting events.
With updated ridership estimates, the two public transit agencies also will have better data to determine which routes need more buses to ensure passenger safety, said Dubey, who leads the project and is also senior research scientist at the Vanderbilt Institute for Software Integrated Systems.
The project has a direct and immediate connection to the development of smart city technologies and can eventually be applied to other transit agencies across the country. Its blend of technical research and community engagement promises to improve the overall resilience of essential public transit services in the face of challenges, pandemic or otherwise.