Brett Byram named inaugural Hoy Family Faculty Fellow in engineering school
Brett Byram, associate professor of biomedical engineering, has been named the inaugural Hoy Family Faculty Fellow in recognition of his advances in medical ultrasound imaging.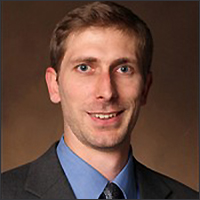 Byram's research is a transformational integration of acoustics, machine learning, signal processing and physiology to better understand and access functional and anatomical information. He leads the Biomedical Elasticity and Acoustic Measurement (BEAM) lab and is affiliated with the Vanderbilt Institute for Surgery and Engineering and the Vanderbilt University Institute of Imaging Science. He also is an associate professor of Radiology and Radiological Sciences.
Byram recently received a $2.3 million National Institutes of Health grant to evaluate his advances—clutter and noise improvements—on a specific subset of cardiac imaging used in diagnosing and monitoring patients with atrial fibrillation.
A National Science Foundation CAREER award in 2018 has supported the development of a next-generation ultrasound device to enable real-time ultrasonic visualization, without the use of contrast agents, of brain perfusion—cerebral blood flow and pressure—and translate these signatures into action.
In 2022, Byram was named as a Senior Member of the global optics and photonics society, SPIE. He was selected in 2018 to take part in the National Academy of Engineering's 24th annual U.S. Frontiers of Engineering symposium.
Byram joined the Vanderbilt engineering faculty in 2013 from Duke University where he was an assistant research professor in biomedical engineering. He earned a B.S.in biomedical engineering and math from Vanderbilt in 2004. He received the Ph.D. degree in biomedical engineering in 2011 from Duke.
The Hoy Family Faculty Fellowship was established in 2020 by Laura and William Winston Hoy Jr., BA'64, in honor of their son, Thomas Nelson Hoy, BE'05, and daughter-in-law, Alanna Marie Patsiokas, BE'06, MD'10, as well as Alanna Patsiokas' service on the School of Engineering's Board of Visitors. Alanna Patsiokas and Thomas Hoy earned their bachelor's degrees in biomedical engineering.
Posted on Monday, February 27, 2023 in biomedical engineering, Brett Byram, faculty fellowship, Hoy Family Faculty Fellow, medical ultrasound imaging,Biomedical Engineering, Home Features, News, News Sidebar