'Army Futures Command-Vanderbilt partnership'
Aug. 23, 2021—Army Futures Command backs development of soft exoskeleton for soldiers Army Futures Command recently awarded Vanderbilt University its inaugural Pathfinder Project, a one-year, $1.2 million investment from the Army Research Laboratory and the Civil-Military Innovation Institute Inc. to support collaborations between researchers and creative soldiers to rapidly innovate high-impact, research-based technologies with a path to commercialization and...
---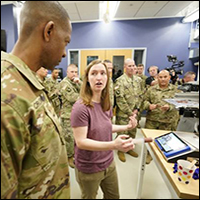 Apr. 15, 2019—Army Futures Command and Vanderbilt University signed an agreement April 9 that links creative, innovative soldiers with top-tier Vanderbilt University experts so that ideas quickly can become useful products. Leaders from the two groups say this five-year education partnership agreement is a potential model for military-academic collaboration across the nation, not only on research and...
---