'Chancellor's Award for Research'
Sep. 2, 2022—Engineering professors Joshua Caldwell and Bennett Landman won a Chancellor's Award for Research at the 2022 Fall Faculty Assembly. Vanderbilt faculty marking 25 years of service to the university also were recognized, including five engineering professors. Chancellor Daniel Diermeier, Provost and Vice Chancellor for Academic Affairs C. Cybele Raver and the Faculty Senate celebrated faculty achievements and...
---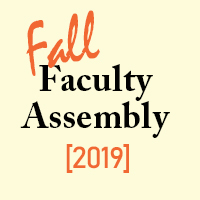 Aug. 23, 2019—Sharon Weiss was one of seven Vanderbilt professors who won a Chancellor's Award for Research at the Fall Faculty Assembly Aug. 22. This award recognizes excellence in works published or presented in the last three calendar years. Honorees each receive $2,000 and an engraved julep cup. Weiss, Cornelius Vanderbilt Professor of Electrical Engineering, received the...
---