'Construction Management Program'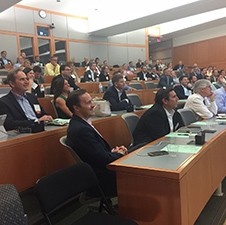 Aug. 14, 2017—Though the event title highlighted the "Epidemic of Uncertainty" surrounding the U.S. health care system, attendees left the 11th Healthcare Design and Construction Symposium with concrete ideas for moving forward. Among them: Ways the built care delivery environment can lower costs but better serve patients and clinicians; how huge data aggregation efforts can deliver insights...
---
Feb. 17, 2010—The Construction Management Program in the department of civil and environmental engineering is hosting a one-day forum on "Sustainable Buildings:  Progress, Practice and Challenges" for architects, engineers, planners and contractors. Local and national sustainability leaders who have incorporated green building practices in their designs, construction, and building operations will deliver presentations and participate in panel...
---