'Cornelius Vanderbilt Chair'
Nov. 23, 2021—Professor of Chemical and Biomolecular Engineering Jamey D. Young has been named Cornelius Vanderbilt Professor of Engineering. Cornelius Vanderbilt Chairs are established by the university at all Vanderbilt schools to recognize faculty who are engaged in groundbreaking research. Young is the director of graduate studies in chemical engineering and director of the Interdisciplinary Training in...
---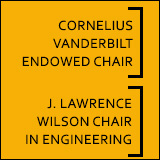 May. 8, 2017—Six engineering faculty members have been named to endowed chairs, including five who now hold Cornelius Vanderbilt posts. "The School is fortunate to have exceptional faculty doing extraordinary work and it is fitting that they are recognized with an appointment as a named professor," said Dean Philippe Fauchet. "This support complements the University's efforts to...
---