'Courtney Clark Pastrick'
Mar. 16, 2021—Vanderbilt engineering alumni Sheryll D. Cashin, Jennifer Rose Frist and Cathy Jo Thompson Linn have been named Distinguished Alumni and Courtney Clark Pastrick has been named a Distinguished Friend of the School of Engineering. They will be inducted into the school's Academy of Distinguished Alumni and celebrated at the Board of Visitors virtual meeting Wednesday,...
---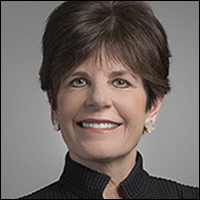 Dec. 7, 2020—The A. James & Alice B. Clark Foundation has established a $1 million endowment at the Vanderbilt University School of Engineering to support its faculty. This investment honors Courtney Clark Pastrick's service on Vanderbilt's Board of Trust from 2010 to 2020. The A. James & Alice B. Clark Foundation Faculty Endowment will enable the creation of...
---