'engineering and surgery'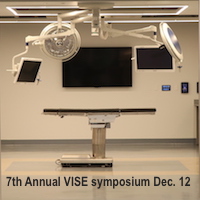 Dec. 4, 2018—The Vanderbilt Institute for Surgery and Engineering hosts it 7th Annual Symposium Dec. 12 with invited speakers from Memorial Sloan Kettering Cancer Center, Worcester Polytechnic Institute, Johns Hopkins University and the Chinese Academy of Sciences. The 2018 Surgery, Intervention, and Engineering Symposium opens with lunch and a poster session at noon in the Light Hall...
---
Jul. 23, 2015—With the flick of a tiny mechanical wrist, a team of engineers and doctors at Vanderbilt University's Medical Engineering and Discovery Laboratory hope to give needlescopic surgery a whole new degree of dexterity. Needlescopic surgery, which uses surgical instruments shrunk to the diameter of a sewing needle, is the ultimate form of minimally invasive surgery....
---