'Immersion Vanderbilt Initiative'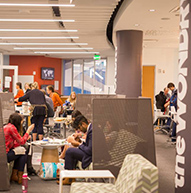 Sep. 18, 2017—Vanderbilt University is embarking on a series of events demonstrating its commitment to connecting need knowers with solution makers. Kevin Galloway, hired last year as the university's director of making, recently was appointed as the Design as an Immersive Vanderbilt Experience (DIVE) director and will play an integral role in upcoming hackathons, makeathons and design courses. DIVE,...
---
Oct. 27, 2014—William H. Robinson III, associate professor of electrical engineering and computer engineering, and Doug Schmidt, professor of computer engineering and computer science, have been named to committees tasked with fleshing out key initiatives in Vanderbilt's Academic Strategic Plan. Members of the immersion experience and cross-college teaching committees are set, announced John Geer, vice provost for...
---