'NASA Student Launch competition'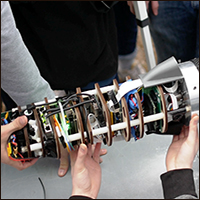 Mar. 29, 2018—Rockets naturally roll during ascent, posing great difficulty in imaging objects on the ground. Engineering students in the Vanderbilt Aerospace Design Laboratory tackled that challenge. On Saturday, April 7, at the 2018 NASA Student Launch Competition in Toney, Alabama, they will demonstrate a payload design that helps capture image targets The Vanderbilt team has designed...
---
Apr. 12, 2015— Vanderbilt rocketeers continued their winning ways in this year's NASA Student Launch competition, taking first place for the third consecutive year. Vanderbilt's Aerospace Club was one of 31 university teams that competed April 11 at Bragg Farms in Toney, Alabama, near NASA's Marshall Space Flight Center in Huntsville. The club learned of its...
---