'Nissan North America'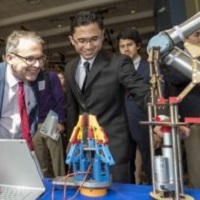 Apr. 27, 2018—Knowing only the project title, they wanted in. "Mid-flight Drone Refueling" hooked them. Hundreds of hours later, the team of three electrical engineering seniors and four mechanical engineering seniors had a suggestion or two for future capstone design teams. Be ambitious – but expect to underestimate the project's complexity and the time it requires. "We...
---
Jan. 17, 2014—SSE's analytics is cause for optimism Combining their love of college football and knowledge of the New York Stock Exchange – and some savvy and sophisticated technological skills – Will Schreiber (BA '13, economics) and McArthur Gill (BE '13, mechanical engineering) developed Stadium Stock Exchange during their final semester. In one year, the venture has...
---