'nuclear power plants'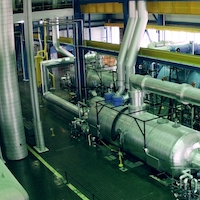 Oct. 24, 2019—A failing pipe can be tough to spot. It may cause a puddle, produce another sign of damage, or simply burst before detection. A flooded kitchen or laundry room is messy and inconvenient, but the stakes are much, much higher in nuclear power plants – which on average contain many miles of pipeline. As concern...
---
Nov. 10, 2014—The team studying ways to help nuclear power plant operators improve work performance and safety includes, from left, Julie Adams, Ph.D., Shilo Anders, Ph.D., Sankaran Mahadevan, Ph.D., and Matthew Weinger, M.D. Not pictured is Dan France, Ph.D., MPH. (photo by Anne Rayner) A multidisciplinary Vanderbilt team with deep experience in improving patient safety and technology...
---