'Parker Hannifin Corporation'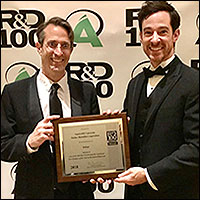 Nov. 28, 2018—by Heidi Hall Nov. 28, 2018, 3:38 PM The Indego exoskeleton developed at Vanderbilt University picked up an R&D 100 Award at the Nov. 16 ceremony held in Orlando, Fla. Co-inventors Michael Goldfarb, H. Fort Flowers Professor of Mechanical Engineering, and Ryan Farris, a Vanderbilt alumnus and engineering manager at Parker Hannifin Corporation, accepted the...
---
Mar. 11, 2016—The U.S. Food and Drug Administration (FDA) has given clearance to market and sell the powered lower-limb exoskeleton created by a team of Vanderbilt engineers and commercialized by the Parker Hannifin Corporation for both clinical and personal use in the United States. Michael Goldfarb (Vanderbilt University) "I'm really glad," said H. Fort Flowers Professor of...
---