'science policy and advocacy'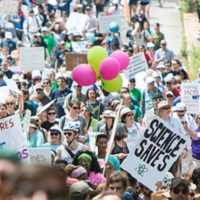 Mar. 28, 2018—America as a whole is losing its passion for science, a trend that jeopardizes biomedical advancements to cure disease, ease suffering, and improve lives, the head of a top academic association said Wednesday. "If we want science and medical innovation to once again define what America wants to be then we have to make it...
---
Oct. 27, 2014—The event's panels addressed policy and advocacy processes, as well as career-oriented topics. Twenty-six Vanderbilt students explored the opportunities and challenges of setting policy on federal issues and advocacy related to science, technology, engineering and math during a two-day immersion event in Washington, D.C. The Oct. 16-17 workshop was designed to explain and demonstrate federal...
---