'Three Minute Thesis'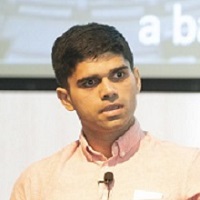 Apr. 8, 2019—An electrical engineering graduate student took the top prize is this year's Three Minute Thesis (3MT) competition with a presentation on designing fault-tolerant control systems using data-driven methods. Without really saying it that way. Ibrahim Ahmed presented "Comfort and cost: A balancing act," which centered on his research to find the critical temperature at which air...
---
Mar. 2, 2016—Topics ranged from giving nanoparticles the aquatic skills of an Olympic swimmer so they can deliver anti-cancer drugs more effectively…to developing an ultrasonic Trojan horse to destroy tumors…to using blue light as an alternative to antibiotics in controlling bacterial infections. But in the end, it was Vanderbilt University School of Engineering's Thushara Gunda who took...
---