'Vanderbilt Office of Federal Relations'
Jun. 30, 2021—By Collier Roberts Members of the Vanderbilt community meet with a staff member from the Office of Rep. Steve Cohen (D-TN09). (Office of Federal Relations) Two graduate students from Vanderbilt's School of Engineering and one from the School of Medicine recently addressed legislators in Washington, D.C., virtually, sharing stories about the important role funding from...
---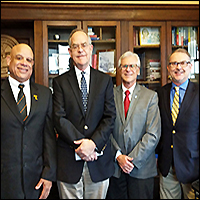 Feb. 11, 2019—Left to right: Interim Dean Mark Dean (UT-Knoxville), Rep. Jim Cooper (D-TN05), Dean Richard Sweigard (University of Memphis) and Dean Philippe Fauchet (Vanderbilt). By Heather Bloemhard School of Engineering Dean Philippe Fauchet, who holds the Bruce and Bridgitt Evans Dean's Chair in Engineering, was in Washington, D.C., last week to advocate for federal support of...
---