1st Academic Pathways cohort includes future engineering professors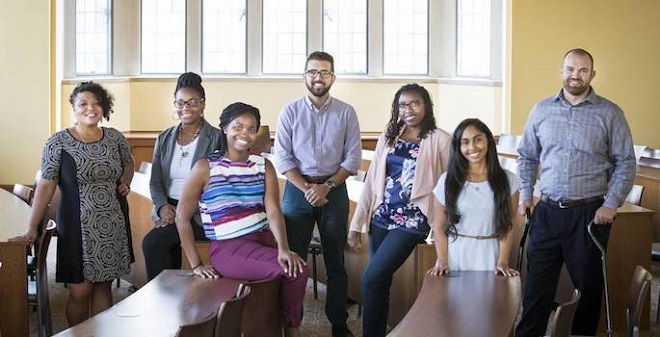 The first cohort of Academic Pathways postdoctoral fellows. L-R: Monica Ridgeway, Lillian Brady, Rashanique Quarels, Diego Mesa, Joy Garnett, Kyndra Cleveland, Dean Stolworthy (Vanderbilt University)
Over the past few months, seven outstanding Ph.D.'s from around the country have come to Vanderbilt to pursue postdoctoral training with an eye toward academic careers.
They're the first cohort of fellows in the Academic Pathways program, a new Vanderbilt initiative developed to serve as a bridge between academic training and entry-level faculty positions with a particular emphasis on scholars with diverse backgrounds and experiences.
Several of these scholars – Diego Mesa, Monica Ridgeway and Dean Stolworthy – are working with School of Engineering faculty.
Diego Mesa earned a Ph.D. in bioengineering from the University of California, San Diego. Mesa will work with Tom Lasko, assistant professor of biomedical informatics, and Eugene Vorobeychik, assistant professor of computer science and computer engineering. Mesa is using applied probability and information theory to develop a clinical decision-support framework for health care providers to determine, for example, the optimal time to give a medical test to gather the most useful information from it.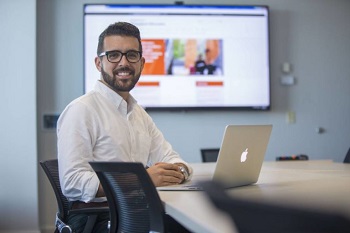 "The long-term goal is to cut down on the number of tests a patient has to take, by making sure each test is as informative as possible," Mesa said.
Mesa decided to apply his engineering skills to medicine as a way to ground his work in an area with high impact.
A computer engineering major in college, Mesa always planned to find a high-paying tech job until he happened to see a posting for a research assistant that paid more than his current job at Subway. After that, he was hooked. He sought out the Academic Pathways fellowship because he wanted some protected time to pursue research that wasn't already tied to an existing grant, and he was attracted to the close proximity of the School of Medicine and the robust professional development opportunities available to Academic Pathways fellows.
"It was the perfect fit for my future career goals," he said.
Monica Ridgeway earned a Ph.D. in curriculum and instruction and the science of learning from the University of Buffalo. Ridgeway is a former educator who has seen firsthand the educational disparities that marginalized children of color face. During her time at Vanderbilt, she aims to illuminate similar issues among underrepresented graduate students and faculty in engineering and computing disciplines.
Ridgeway is working with Ebony O. McGee, associate professor of diversity and STEM education, and William H. Robinson, associate professor of electrical engineering and computer engineering, on the Explorations in Diversifying Engineering Faculty Initiative.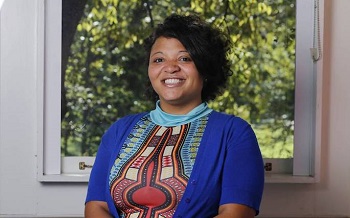 EDEFI's mission is to investigate the institutional, technical, social and cultural factors that affect decision making, career choices and career satisfaction for engineering and computing doctoral students, candidates, postdoctoral researchers and faculty who have been marginalized by race and/or gender, as well as how those factors contribute to underrepresentation in engineering and computing faculty positions.
"I consider myself a social justice scholar," Ridgeway said. "I am passionate about my work and I am excited to be here at Vanderbilt."
Ridgeway is focused on two projects, including one analyzing the support systems of women engineering professors of color. The second involves analyzing the unique experiences and perspectives that African American computing and engineering professors offer universities that may not be formally recognized by their institution, such as increased student mentoring or higher levels of service on faculty committees to ensure adequate representation.
Ridgeway sought out the Academic Pathways program because she craved the opportunity to do more research. "I felt this was the best opportunity to not only prepare me for the professoriate, but to give me an opportunity to learn additional research methodologies while also benefiting from really good mentorship," she said.
Dean Stolworthy earned a masters and doctorate in mechanical engineering with an emphasis on biomechanics from Brigham Young University. At Vanderbilt, he is working with Karl Zelik, assistant professor of mechanical engineering, and Michael Goldfarb, the H. Fort Flowers Professor of Mechanical Engineering, on new alternatives for lower back surgery and injury-prevention supports for people with low back pain.
Growing up in Las Vegas, Stolworthy was actively involved in sports and enjoyed working with his hands, including working in home construction and auto mechanics. He had planned to study mechanical or aerospace engineering until he sustained a paralyzing spinal cord injury at age 17 and was introduced to the possibilities of studying medicine.
After years of physical therapy, Stolworthy now walks with two canes and says he has a deep respect for the body's remarkable ability to heal itself. As a graduate student, he focused on low back pain and surgical spinal implants, but that work convinced him that surgery wasn't always the answer.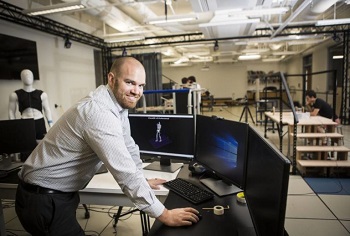 "Low back pain is most often a mechanical problem, and mechanical assistance could be used for prevention or treatment," he said.
After earning his Ph.D. Stolworthy went to work as a forensic engineer specializing in injury biomechanics for nearly 3 years. He enjoyed the work but decided to return to academia because recent advances in technology had inspired him to continue researching solutions to mechanical health problems.
Plus, he wanted to share his passion for mechanical engineering design with students.
"When you're running a research program, you have a team working towards understanding a problem and developing new technology to address that problem," he said. "I feel that a career in academia will be exciting."
The first Academic Pathways Fellows cohort also includes Joy Garnett, who earned a Ph.D. in materials science from Vanderbilt. Garnett works at Fisk University, which partners with Vanderbilt on the NSF Alliances for Graduate Education and the Professoriate (AGEP) grant that supports part of the Academic Pathways program.
She is working with Arnold Burger, a professor of physics at Fisk, Garnett studies scintillators, a type of crystal that lights up when exposed to nuclear particles like alpha rays and gamma particles, thereby functioning as a radiation detector. They're used in medical imaging, TSA screening and other applications.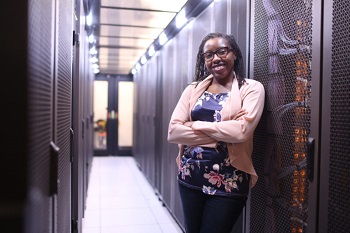 In addition to a traditional postdoctoral research experience, the Academic Pathways program provides fellows with professional development training, enabling them to develop the soft skills important for success in today's academic setting, as well as a robust mentoring framework.
"We were delighted by the level of interest in the first year of the program. We received 70 applications in a really short application window," said Clare McCabe, Cornelius Vanderbilt Professor of Engineering, associate dean of the Graduate School and director of the Office of Postdoctoral Affairs, which oversees the Academic Pathways program.
"I couldn't be more pleased to welcome such an exceptional group of scholars to Vanderbilt."
Media Inquiries:
Liz Entman, (615) 322-NEWS
Liz.entman@vanderbilt.edu
Posted on Monday, October 30, 2017 in Academic Pathways Fellows, Clare McCabe, Diversity and Inclusion, postdoctoral researchers,Electrical Engineering and Computer Science, Mechanical Engineering, News, News Sidebar, Research