Anilkumar, adviser to four-time rocket launch champions, wins Chancellor's Cup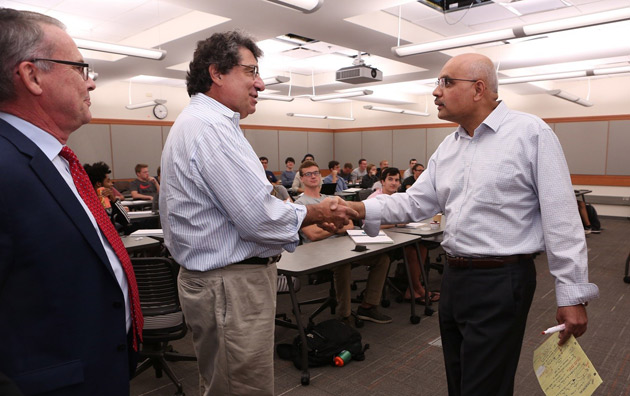 Amrutur "A.V." Anilkumar stopped mid-sentence in his fluid mechanics class, as Vanderbilt's chancellor entered his Featheringill Hall classroom with an entourage of friends, family and colleagues.
Anilkumar, professor of the practice of mechanical and aerospace engineering and adviser to Vanderbilt's four-time NASA Student Launch championship-winning club, soon would learn the purpose of Monday's visit: to award him the Chancellor's Cup.
The reasons became clear as Chancellor Nicholas S. Zeppos  ticked off the professor's accomplishments, starting with connecting students from various disciplines to form an aerospace engineering powerhouse even though the School of Engineering offers no formal aerospace engineering program. Ten members of the Vanderbilt University Aerospace Club have moved on to jobs at SpaceX, four to Lockheed-Martin and two to Boeing.
"Dr. Anilkumar has devoted hundreds of hours each year to this club," Zeppos said. "He is a gifted classroom teacher and active in so many activities outside the classroom. I want to say I'm proud of you, and I consider it a privilege to be your colleague and present this award to you in front of these bright young students."
The Chancellor's Cup is presented annually to the professor who makes the greatest intellectual and academic contributions to undergraduate students outside of classroom teaching. The chancellor selects the winner with input from the Mortar Board national honor society, Omicron Delta Kappa, deans of the undergraduate schools and administrators in the Office of the Dean of Students.
Anilkumar was quick to share the honor with Department of Mechanical Engineering Chair Robert Pitz, who nominated him with the help of Douglas Adams, Department of Civil and Environmental Engineering chair, Distinguished Professor of Civil and Environmental Engineering and Daniel F. Flowers Professor.
"You can't go it alone in this game. You have to have someone to propel you, and Dr. Pitz deserves a lot of credit for that," Anilkumar said. "Five years ago at an SEC symposium in Atlanta, I asked two students to describe our rocketry program to Chancellor Zeppos, and they both came back and told me they were extremely impressed that the chancellor was so interested in rocketry, and that he used to fly rockets.
"Since then, I've been corresponding with him, and he has been an enthusiastic supporter of the student launch program that has done very good things for Vanderbilt. Chancellor Zeppos, thank you for your work."
The cup was presented by Melissa Hodges Smithson, president of the Nashville Chapter of the Vanderbilt Alumni Association, which endows the award. Established in 1963, the award is presented every year during Reunion activities and includes an engraved pewter cup, a silver Tiffany bowl engraved with all previous winners' names that the current winner keeps for one year, and a check for $2,500.
Anilkumar earned his Ph.D. in mechanical engineering and aeronautics from CalTech and came to Vanderbilt in 1988. His research includes the areas of aeropropulsion, energy conversion and microgravity materials processing, and he has served as co-investigator for experiments conducted on the space shuttle and the International Space Station.
He was named the American Institute of Aeronautics and Astronautics 2016 Faculty Advisor of the year, was elected as an associate fellow of the AIAA in 2012, and received the School of Engineering Award for Excellence in Teaching in 2008.
Anilkumar also established the Vanderbilt Alternative Energy Club, which allowed students to work with Nashville Metro Government on a renewable energy pilot facility atop Love Circle, and has earned recognition from the Environmental Protection Agency.
Media Inquiries:
Heidi Hall, (615) 322-NEWS
heidi.hall@vanderbilt.edu