ASCE Industry Career Night draws 22 companies seeking 'the best of the best'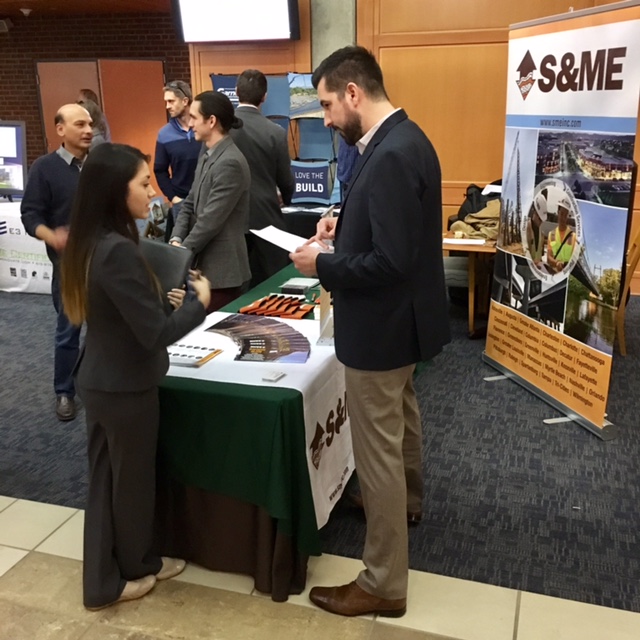 Twenty-two companies drew a crowd to the atrium in Featheringill Hall on Feb. 2, as engineering majors learned more about whether they might be a good fit for available jobs.
It was the American Society of Civil Engineers Industry Career Night, the largest one yet, said Lori Troxel, associate professor of the practice of civil and environmental engineering and faculty adviser for the Vanderbilt student chapter.
One of the event's organizers, Nathan Grosser (CE'17), ASCE vice president of meetings, said the key was broadening the invitation list.
"In past years, we tried to focus on a couple of different sectors of the industry," he said. "This year, we tried to hit all of them. We've got construction, environmental, transportation, energy – all the different fields."
Paloma Mendoza (CE'17) said she appreciated the wide array of employers at the event. Her strategy was to research all of them before she arrived, making her a more knowledgeable candidate, and then just be herself.
She chatted up Travis Todd (CE'03), a senior project manager for Littlejohn, an S&ME Company, discussing how her internships prepared her for employment after graduation.
Todd said he's been attending ASCE Industry Career Night since 2007 to recruit for his company.
"I'm looking for the best of the best, so I come to Vanderbilt," the alum said.
Contact
Heidi Hall, (615) 322-6614
Heidi.Hall@Vanderbilt.edu
On Twitter @VUEngineering
Posted on Friday, February 3, 2017 in ASCE, career night, civil engineering, Nashville, recruiting, Vanderbilt,Civil and Environmental Engineering, Home Features, News