ASCE team wins 3 contests at civil engineering conference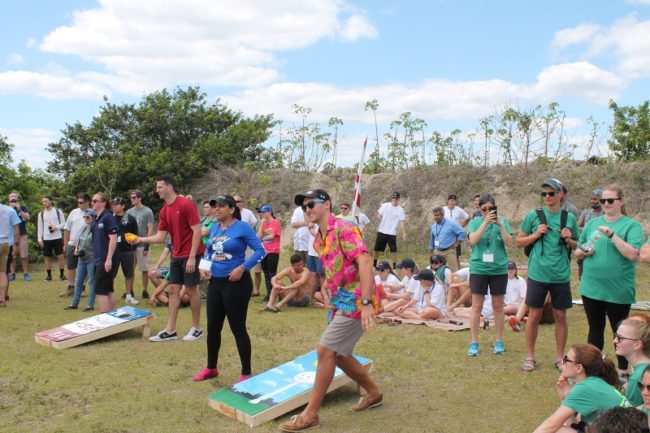 In a cornhole tournament, 1/16th of an inch can make all the difference.
Especially when the board is made of concrete and the players take their game seriously.
The Vanderbilt chapter of the American Society of Civil Engineers (ASCE) handily won the concrete cornhole challenge at 2017 ASCE Southeast Student Conference, hosted recently by Florida Atlantic University's Department of Civil, Environmental and Geomatics Engineering.
The team's other awards:
1st place, for theme display (Civil Goes Green)
1st place, for steel bridge deflection;
2nd place, for steel bridge display;
2nd place, for traffic engineering; and
2nd place, for t-shirt design.
Nathan Grosser and Kendall Coffman, both CE seniors, said it was Vanderbilt's best showing in at least four years.
More valuable, they said, are the friendships they've made that the annual conference helps, well, cement.
"I got involved in the tournament as a sophomore not knowing what I was getting into," Coffman said. "I was able to get to know juniors and seniors better.
"Plus, the conference is fun," she said. "The reason we are in engineering is we want to be hands-on."
The three-day conference drew more than 1,000 students from 25 universities in the southeast U.S., as well as Puerto Rico and China. It was the largest of the ASCE regional conferences.
Grosser, who is staying at Vanderbilt to pursue an ME in structural engineering, led the steel bridge team. Work on it started last October; many of the challenges require months of preparation.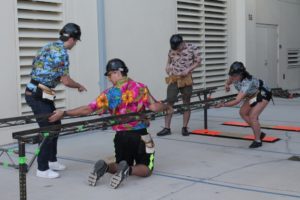 "This is the time of year when you really bond with all your CE classmates," he said.
For the steel bridge challenge, students design the bridge and order the raw steel in advance. The 20-foot bridge traverses an imaginary river that is 6 feet wide.
"They do all the welding and cut the pieces on site," said Lori Troxel, Associate Professor of the Practice Civil and Environmental Engineering and the group's faculty adviser.
"They have to put it together at the conference so speed is a factor," she said.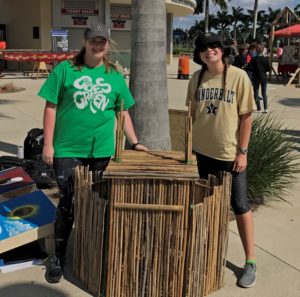 Troxel accompanied 23 engineering undergraduates who took part in this year's tournament; Rich Teising, a staff engineer who oversees the structures lab, drove some components and four concrete cornhole boards – redundancy in case of breakage – the 870 miles to Boca Raton and met up with the team..
For the cornhole challenge, or concrete mixed design for cornhole boards, Vanderbilt shaved 1/16 of an inch off the thickness it produced in 2016 – and engineered the thinnest board of all the schools competing – 3/16 of an inch. The contest also demanded skill at playing the game. Vanderbilt came away with 92 total points, 20 more than the nearest competitor.
Theme design, or sustainable design of a waste receptacle, required use of recycled and sustainable materials for a 40-gallon trash can. The budget was $150.
The Vanderbilt team spent $5. On paint.