Baroud receives inaugural Littlejohn Dean's Faculty Fellowship
A civil engineering professor who develops tools that improve infrastructure systems' reliability and recovery from disasters like hurricanes and floods has received the inaugural Littlejohn Dean's Faculty Fellowship.
Vanderbilt Engineering School Dean Philippe Fauchet announced Jan. 13 that Hiba Baroud, assistant professor of civil and environmental engineering, has received the new endowed fellowship for junior faculty members.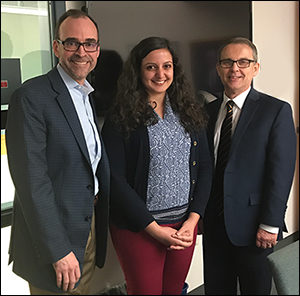 "This fellowship enables us to recognize our bright young engineering faculty members at the assistant professor level, something impossible for us to do in such an impactful way until today. We are grateful to the Littlejohn family for their support in helping us create opportunities like this for our faculty," Fauchet said at a reception for Baroud.
The fellowship is endowed by Howard and Julia Littlejohn, whose gift honors and recognizes their son, James H. Littlejohn, president of Littlejohn, an engineering firm based in Nashville, Tennessee. Littlejohn is a 1976 civil engineering graduate, and he serves on the school's Board of Visitors and the civil engineering department's external advisory council.
"Hiba collaborates with colleagues across a range of disciplines on campus to address challenges that are of critical importance to society, and she has enjoyed early success in winning competitive research grants," said Doug Adams, Daniel F. Flowers Professor and chair of the Department of Civil and Environmental Engineering. "We congratulate Hiba on her accomplishments so far, and the exciting opportunities for discovery and learning that await her."
"I am very excited about this opportunity and grateful for the support of the Littlejohn family. Vanderbilt offers a nurturing environment and is a great place to advance my career as a junior faculty. I also have been fortunate to work with amazing colleagues in the department as well as across the school of engineering and the university.," Baroud said.
Baroud develops statistical methodologies and tools to measure and analyze the risk, reliability, and resilience in critical infrastructure systems; in particular, to predict disruptive events and to model recovery processes.
She has received a number of grants, including two from the National Science Foundation. She serves as principal investigator on one from the NSF, and as co-PI in collaboration with the Department of Earth and Environmental Science. She also is collaborating on an NSF project to study the trade-off of allocating water between hydroelectric power generation and crop irrigation to minimize unemployment and maximize food production.
Baroud is part of the Vanderbilt Center for Transportation and Operational Resiliency on a number of new programs, including a winning proposal to the U.S. Department of Housing and Urban Development in the National Disaster Resilience Competition in which she will study river supply chain resilience to extreme weather events. In addition, she is co-PI on two Vanderbilt University 2016 awards – the Vanderbilt Initiative on Smart Cities Operations Research and the Vanderbilt Initiative for Intelligent Resilient Infrastructure Systems.
"Hiba teaches courses on statistics, data analytics, and risk-based decision analysis that have proven popular among our students, and those courses are helping shape our new undergraduate curriculum in civil engineering," Adams said.  Baroud also advises undergraduate research interns, including students from the Brazil Scientific Mobility Program last summer.
Baroud is Chair of the Program Committee for the first American Society of Civil Engineers Conference on Infrastructure Resilience and is playing a leading role in professional societies such as the Society for Risk Analysis and the Women in Operations Research and the Management Sciences.
She joined the faculty of the school of engineering in fall 2015. Baroud earned a Ph.D. in industrial and systems engineering from the University of Oklahoma. She has a master's of mathematics from the Department of Statistics and Actuarial Science at the University of Waterloo, and a bachelor's degree in actuarial science from Notre Dame University, Lebanon.
Contact:
Brenda Ellis, (615) 343-6314
Brenda.Ellis@Vanderbilt.edu
Twitter @VUEngineering
Posted on Thursday, January 26, 2017 in Hiba Baroud, James H. Littlejohn, junior faculty, Littlejohn Dean Faculty Fellowship,Civil and Environmental Engineering, Home Features, Media, News, Research