BME alumna honored with state STEM advocate award
Biomedical engineering alumna Stacy Klein-Gardner received the 2017 STEM Advocate Award May 24 from the Tennessee STEM Innovation Network.
She is one of four winners the TSIN will honor with excellence awards that recognize outstanding teachers, leaders, and advocates in the fields of science, technology, engineering, and math (STEM) education.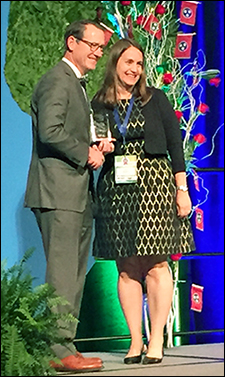 Klein-Gardner is the director of the Center for STEM Education for Girls at Harpeth Hall School in Nashville. She receives the advocate award for her commitment to advancing opportunities for girls in STEM and for the successful creation of a national platform for incubating ideas that provide access to STEM opportunities for all students.
The STEM Advocate Award recognizes a Tennessean who has demonstrated a passion for STEM education through public advocacy and participation in leadership organizations that advance STEM education for students.
At Harpeth Hall School, Klein-Gardner leads professional development in STEM and works to identify and disseminate best practices from successful STEM programs for females. She hosts the nationally-recognized STEM Think Tank and Conference annually at the school and leads a program for rising seventh through twelfth-grade girls that integrate community service and engineering design in a global context.
She currently serves as the immediate past chair of the American Society for Engineering Education's Pre-College Engineering Education Division and serves as an adjoint professor of biomedical engineering at the Vanderbilt School of Engineering.
From 2007 to 2010, Klein-Gardner was associate professor of the practice of biomedical engineering and associate dean for outreach. In these roles, she was the principal investigator of the NSF-funded Bioengineering Research Experience for Teachers program, co-PI for the NSF-funded Bioengineering Education Research REU site project, and co-PI for the Design and Development of Educational Modules for Bioprocess Engineering (NSF CCLI).
During her administrative tenure, she significantly expanded engineering study abroad programs for undergraduates, was in charge of industrial relations for the School of Engineering and oversaw school-level publications. Klein-Gardner is a lauded classroom instructor and academic adviser at the high school, undergraduate and graduate levels.
Klein-Gardner earned a bachelor's degree in biomedical and electrical engineering at Duke University ('91), a master's degree in biomedical engineering at Drexel University ('93), and a Ph.D. in biomedical engineering at Vanderbilt University in 1996.
Contact:
Brenda Ellis, (615) 343-6314
Brenda.Ellis@Vanderbilt.edu
Twitter @VUEngineering
Posted on Monday, May 29, 2017 in award, biomedical engineering, Stacy Klein Gardner, STEM, Tennessee STEM Innovation Network,Alumni, Biomedical Engineering, Home Features, News