California alum celebrates 100th birthday with fetes in Nashville

Several hundred well-wishers at Vanderbilt University marked Ben Schulman's 100th birthday during a celebration weekend – Jan. 20-22 – in Nashville.
The university honored Schulman at venues across the campus, including a Friday evening Shabbat dinner with more than 300 guests at the Schulman Center for Jewish Life, which he helped endow. Chancellor Nicholas S. Zeppos was host of a dinner party Saturday evening at his residence.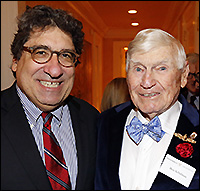 "Vanderbilt is a better place because of Ben Schulman's thoughtful generosity. The Schulman Center for Jewish Life fulfilled a need for building community and recognizing and celebrating cultural and religious identity," said Zeppos. Thanks to Ben's vision of nurturing a diverse academic environment, the Center continues to enrich the Vanderbilt community and makes the university all the more remarkable.  I consider it a great honor to celebrate Ben's 100 years of life and to pay tribute to his extraordinary service to our nation and his belief in humanity."
On Sunday, Schulman was again honored at the Schulman Center for Jewish Life with a birthday brunch hosted by Vanderbilt Hillel. One of the speakers at the brunch was his great niece, Alyssa Jaffe, who graduated from Vanderbilt in 2015 with a chemical engineering degree like her great uncle.
Bruce Heyman, a Vanderbilt graduate and the outgoing U.S. ambassador to Canada, paid tribute to Schulman in a 15-minute video that played during the brunch. The video included messages from current Vanderbilt students describing the impact of the Schulman Center and the Hillel chapter it houses on their lives, as well as a half dozen couples from around the country who said they met through their involvement in the Hillel activities at the center.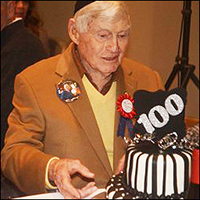 A longtime supporter of Vanderbilt Hillel, Schulman most recently has underwritten the cost of the new Dor L'Dore Donor Wall that honors contributors to Vanderbilt Hillel.
For his part, Schulman took all the praise with humor and humility. "Who is the Ben Schulman everyone's talking about? I'd like to meet him," he said at the brunch. "I'm flattered that so many people would come out to help me celebrate my birthday," reported Charles Bernsen in Nashville's Jewish Observer.
Schulman, whose birthday is Jan. 17, 1917, moved to Nashville from Decatur, Alabama, when he was a child. He graduated from Vanderbilt in 1938 with a degree in chemical engineering. After serving as a Naval officer during World War II, he built a successful business career, including Schulman Mobile Video, a satellite transmission and mobile video production company in Hollywood. Schulman is a resident of Carlsbad, California.
Compiled from reports in The Jewish Observer and Vanderbilt Hillel. Photos courtesy of Vanderbilt University and vuhillel.org.
Posted on Monday, February 6, 2017 in 100th birthday, Ben Schulman, chemical engineering, Schulman Center for Jewish Life, Vanderbilt Hillel,Alumni, Chemical and Biomolecular Engineering, Home Features, Media, News