Campus ASCE chapter invites Hillsboro students to 'Dream Big'

Engineers have made possible incredible achievements – from Shanghai Tower to solar cars, from an ancient rope bridge to underwater robots, from the Great Wall of China to smart cities.
The common denominator is not math or science. It's imagination.
That's the message the Vanderbilt ASCE Chapter shared with more than 60 Hillsboro High School students who spent a half-day on campus. A screening of "Dream Big: Engineering Our World," a critically acclaimed, 42-minute documentary produced to spark interest in engineering careers, capped off the day.
Caroline Janssen, a sophomore civil engineering major, used a collage of photos to walk the group through her hands-on, interdisciplinary introduction to engineering course. What other class includes building a model dam and subjecting it to tornadic conditions, participating in Metro Nashville's Parking Day, and struggling with design constraints in building an electromechanical vehicle?
Janssen also talked about her a summer research job working in Honduras on water resource issues.
Daniel F. Flowers Professor Doug Adams, civil and environmental engineering department chair, kicked off the day with a short video showing his morning commute to campus. He worked on GM's EV1 project for his first college internship.
"Now think about the engineers that imagined the future," said Adams as the video  shifted to his Tesla parking itself on campus.
The problems we face are and will be increasingly complex and disciplinary, he said, closing with one word:
"Help."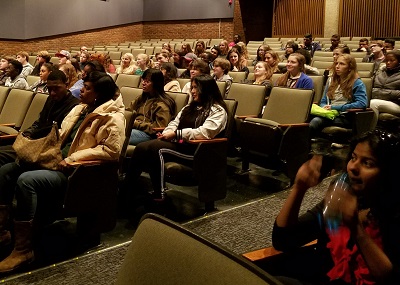 Dream Big aims to do so. Narrated by actor Jeff Bridges, the film is the core of an outreach campaign to encourage engineering careers. The American Society of Civil Engineers (ASCE) leads the project with a coalition of engineering organizations and support from Bechtel, the ASCE Foundation, the United Engineering Foundation, and the National Council of Examiners for Engineering and Surveying.
Variety hailed the documentary, produced by Shaun MacGillivray, as an "arousing, and ravishing, call-to-engineering-arms for future generations."
Dream Big recently won four awards at the IMAX industry's equivalent to the Oscars. It received best visual effects, best marketing campaign, best educational program and tied for overall best short subject film in 2017 by The Giant Screen Cinema Association.
The scenes that showed young students working on engineering problems especially resonated, said Ian Faucher, a Vanderbilt junior from Boise, Idaho. He's a civil engineering and economics double major.
"I think it was exciting for the students from Hillsboro to see fellow high schoolers working to address engineering issues — it makes that possibility more tangible and real," said Faucher, vice president of Vanderbilt ASCE.
The visiting students are part of the Academies of Nashville, a Metro Nashville Public Schools initiative to improve graduation rates of its high school students. Hillsboro Science Department Chair Joshua Swartz (PhD '17), also the lead teacher of the school's interdisciplinary science and research program, said the half-day was so popular he hopes to make it an annual event.
Prior to the screening at Sarratt Cinema Faucher and other ASCE student officers took the Hillsboro students on a tour of Featheringill Hall and the Innovation Pavilion at the Engineering and Science Building to see the makerspace and The Wond'ry.
After the film, Hillsboro students had many questions for the Vanderbilt civil engineering majors. They wanted to know about internships, affordability, undergraduate research, design projects, and the specialties within the field.  Undergraduates talked about their passions and career plans, which included sustainability, construction waste, affordable housing, and reliable infrastructure.
As they make college and career decisions, the Hillsboro students also will take with them the advice of Thushara Gunda (PhD '17), who does interdisciplinary research in Sri Lanka. Gunda, a post-doctoral fellow, involves social psychologists and behavior economists in her water resources work and described an engineering career as thinking critically about any problem, working in teams, applying science and math, communicating and collaborating.
Unintended consequences of human involvement and decision-making can exacerbate an existing issue, she cautioned.
"Solve problems, but try not to create them," Gunda said.
Learn more about the ASCE's Dream Big project.
Posted on Wednesday, December 6, 2017 in ASCE, civil engineering, engineering education, Hillsb, STEM, STEM outreach,Civil and Environmental Engineering, Media, News, News Sidebar