Bridge designed by CE seniors to improve Honduran villagers' access, safety

When Jake Van Geffen and Luke Van de Vate arrived in San Esteban last May, a few things became immediately clear.
The bridge they and teammate Paloma Mendoza, all Vanderbilt civil engineering seniors, needed to design was going to be long. The "traffic," as such, in the agrarian community near the Rio Grande in Honduras, consisted primarily of cows and a surly donkey.
And the villagers were far more adept at slashing away brush with machetes than they were.
To take proper measurements and geotechnical samples, the banks of the Rio Grande needed to be clear. Those measurements and dirt cores would guide the bridge design – the team's senior design project.
"People were excited," Van Geffen said. "They cleared out the underbrush, hacking it away in a matter of seconds."
The villagers were excited for good reason.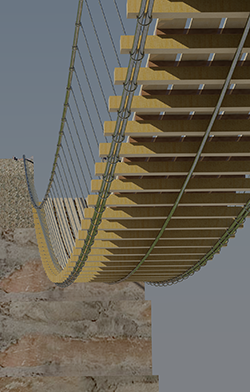 During the rainy season, the Rio Grande swells to such levels that residents of San Esteban struggle to reach schools, clinics and jobs. The village is in the Agalta Valley; the nearest bridge meant a four-hour walk, with a dangerous and potentially fatal river crossing as the only other option.
With Mendoza, whose internship conflicted with the trip, the team decided on a suspension bridge with wooden planks. Unlike a steel bridge, materials for a pedestrian suspension crossing are readily available and don't need to be imported. Additionally, should a board loosen or fall off, residents can make repairs without the need of a steel worker or expensive equipment.
A suspension bridge would be the most affordable while best addressing the site and the community's needs. Cost, safety and sustainability were the main factors. That "balance of engineering science and public policy," is what attracted Van de Vate.
Initially, the plan was a 165-foot bridge but the team decided on 180 feet. That's about as far as a NFL quarterback could throw a pass, Van Geffen said.
The span over the river will consist of 30, six-foot sections. In addition, each side will have a 60-foot approach, for a total length of 300 feet.
"The trickiest part was finding how far back from the river we should build the towers," Mendoza said. "You want to figure out what you can do to make it work but not overdo it where the cost-benefit analysis doesn't make sense."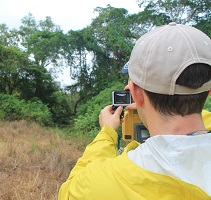 Each week, the team set deadlines to complete difficult calculations. They worked closely with professional engineers and other experts, including advisers Kevin Colvett of CH2M Hill and Mark Warriner of LDA Engineering, to refine the design and ensure it would work.
The project partner is HOI – formerly Honduras Outreach Inc. — a non-profit organization that sponsors more than 50 mission trips to Honduras and Nicaragua each year. Construction is expected to begin in August and finish in 2018.
Mendoza hopes to see it someday.
"People there really do risk their lives trying to cross the river," she said. "Helping someone, even if I never meet them – that is what drew me to the project."
CONTACT
Pamela Coyle, (615) 343-5495
Pam.Coyle@Vanderbilt.edu
Twitter @VUEngineering