Team competing at NREL has big ambitions for home design
The Vanderbilt undergraduate engineering team competing this weekend at NREL – the National Renewable Energy Lab – set an impressive goal for its home design.
"We wanted to show that anyone can have a Net Zero home," said Kate Thomson, team captain and a civil engineering senior. "It isn't just for extreme environmentalists who are willing to sacrifice comforts."
She and three other students CE seniors Kendall Coffman and Trent Sexton plus Kendyll Dellinger, a mechanical engineering senior – are finalists in NREL's Race to Zero competition and presenting their work at NREL in Golden, Colorado. Net Zero means a home with a sustainable energy source, such as a solar array, produces all the energy it needs. The student completion to close in on that standard is is in its third year, though this is Vanderbilt's first team.
The team modified an existing home design for Sterling Ranch, a $4.3 billion planned community southwest of Denver where sustainability is a driving principle. The development is the vision of Brock Smethills, BE' 13, and his father, Harold Smethills, a former Coors executive who is now chairman of the Sterling Ranch Development Co.
The Engineering School and other Vanderbilt departments are partners, tapping Sterling Ranch as source of unique research opportunities for students as well as faculty. They are helping, in fact, build a model city from scratch.
Go big or go home
The students intentionally picked a large home – 2,900 square feet Colorado Ranch – in the suburban single family category to illustrate Net Zero is not as elusive or as uncomfortable as many believe. The model also is the most popular among buyers in Sterling, where home construction began earlier this year.
Project sponsor Lennar is one of the home builders in Sterling Ranch. Lennar's high profile adds importance to the team's work, said Lori Troxel, associate professor of the practice of civil and environmental engineering and the project advisor.
"They developed energy improvements for a national homebuilder, so the work they did can have a very large impact on sustainability nationwide," she said.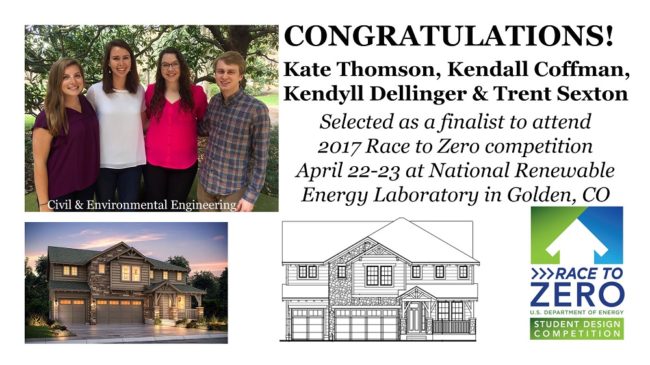 The team used home energy modeling software to measure likely energy use while tweaking Lennar's basic plan. The modifications are wide-ranging.
Heat load in Colorado is a big energy hog. Interlocking 10-inch structurally insulated panels (rated R-47.5, the highest available) created a tighter, home that needs less energy to stay warm, Sexton said.
Walls that are 10 inches thick accommodate triple-pane windows, which drops heat loss even more.
Changes to the roof design and orientation increased the number of solar panels and more than doubled potential energy production from 4.5kW in the original design to 10.8kW, Coffman said.
Because the location logs more sunny days than either San Diego or Miami, adding more windows in the back boosts passive heat gain.
Garage stays; basement goes
In entering the Race to Zero, teams were presented with a specific design problem and asked to redesign and existing floor plan or create a new house design. Their target was the DOE Zero Energy Ready Home specification.
Vanderbilt and teams from 39 other colleges and universities are competing in four housing categories: suburban single family, urban single family, attached duplex/townhome style (2 to 6 units), and small multifamily with up to three stories above grade. Each category has defined ranges for interior square feet and lot size.
At Sterling Ranch, all homes will be outfitted with smart water and energy-management systems. This model has four bedrooms and three bathrooms and is marketed as a home for a growing family. A three-car garage is required by the developer to accommodate a recreational vehicle.
But a basement is not mandatory. The Vanderbilt team ditched the basement for slab construction to reduce the heat load even more.
The CE seniors did, however, keep stacked ovens because families like extra cooking capacity. Also intact is a family room over the large garage, though is a significant energy drain and usually not included in "Net Zero Ready" homes.
"We didn't want people to have to sacrifice," Coffman said.