Ph.D. student publishes illustrated children's book to explain water quality issues in Bangladesh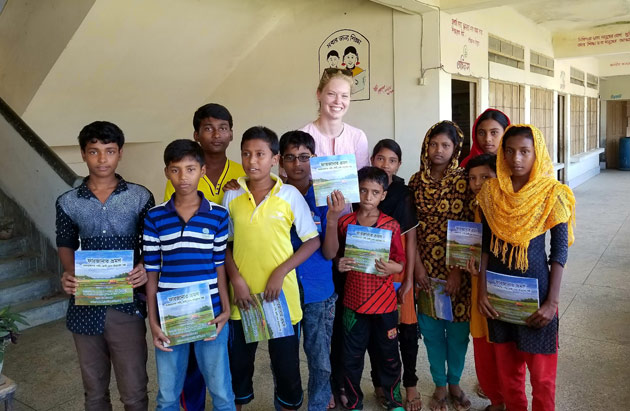 Farzana is a fictional little girl from the mind of environmental engineering Ph.D. student Chelsea Peters, but there are thousands of real children like her in Bangladesh, walking for miles to find clean water for their families.
They, like their children's book counterpart, may struggle to understand why they are surrounded by water they can't drink, streaming down from the Himalayas and crashing into the coast. That's similar to a question Peters studied there through a project supported by the Office of Naval Research.
"I was studying why the groundwater was salty and working on how people in Bangladesh make their decisions about drinking water sources," Peters said. "In my book, animals talk to Farzana about her environment, with the focus being on water. Ultimately, she comes to the conclusion that, while she has to walk a long way to get safe water, she should be proud of the adaptations people have made to discover and drink that."
She recently returned from giving out 500 copies translated into the Bangla language to excited children in 12 schools across her research area.
Her book, Farzana's Journey: A Bangladesh Story of the Water, Land, and People, was the result of Peters' selection as a 2017 Public Scholar by the Curb Center for Art, Enterprise and Public Policy at Vanderbilt. Scholars are Ph.D. students who propose to put their academic research to work solving problems through creative methods.
Students apply for yearlong fellowships and meet with local and national leaders, as well as Curb Center mentors, to shape their projects.
Jay Clayton, the center's director and the William R. Kenan Jr. Professor of English, said Peters' book was a natural choice for the program.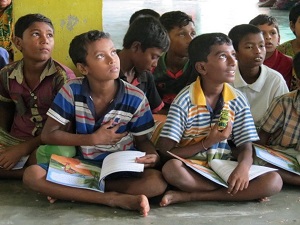 "Chelsea's plan to use the artistic talents of Vanderbilt students and her own creative ability to write a strong children's narrative exploring water quality seemed ideally suited for the aims of this fellowship program," Clayton said. "It was a no-brainer to pick this brilliant engineering student for a program that hopes to combine creativity and the arts with other disciplines, particularly science and social science.
"The book is absolutely gorgeous and should make a real impact on the lives of children in Bangladesh," he said.
Photos from Peters' visits to Bangladesh and illustrations from the book are on display at the Curb Center through March. The book is available in English on Amazon, and all proceeds will be used to print and distribute additional copies in Bangladesh.
Peters, a native of Oxford, Mississippi, received her undergraduate degree from Rhodes College and spent a year with AmeriCorps teaching Knox County students about water quality. She works with George Hornberger, University Distinguished Professor of Civil and Environmental Engineering and director of the Vanderbilt Institute for Energy and Environment.
Media Inquiries:
Heidi Hall, (615) 322-NEWS
heidi.hall@vanderbilt.edu
Posted on Thursday, October 26, 2017 in Bangladesh, curb center, doctoral student, environmental engineering, freshwater supply, George Hornberger,Civil and Environmental Engineering, News, News Sidebar, Research