Clark Scholars dinner brings together students, visionary donor
One by one, moving down the length of an elegantly set table, 10 freshmen engineering students who represent the first cohort of A. James Clark Scholars at Vanderbilt stood up and shared the excitement of being here and how they plan to give back to the world.
Their audience included university leadership, engineering educators and, most significantly, the people who made it possible. The Nov. 1 Clark Scholars Program dinner marked the first time Courtney Clark Pastrick, daughter of the program's namesake, was able to hear in person what the scholarship program means to these students. Pastrick, chair of the A. James and Alice B. Clark Foundation, was joined by foundation President and CEO Joe Del Guercio and Ashley Williams, program analyst.
Adrianna Johnson explained that the School of Engineering's module approach – which allows freshmen to experience three self-chosen disciplines in their first semester – helped her see she was better suited to major in mechanical engineering than biomedical, her original major.
"There is not an interest I have that isn't available to me at Vanderbilt," she said. "I look forward to working with people who are as passionate as I am about engineering."
A smiling Jeremiah Woldabezgi, a computer science major, told the group how significant it was to earn the same scholarship as nine other people, all supporting each other's success. "Back home, it felt like I was the only person with any interest in computer science," he said. "Here, even my roommate is interested in it. I find likeminded individuals everywhere."
It was a scene Jim Clark would have loved, those present who knew him agreed. He died March 20, 2015, at age 87. The late chairman and CEO of Clark Enterprises left behind a portfolio of notable projects that include Nationals Park and the National Museum for African American History and Culture in Washington, D.C., veterans' hospitals in Texas and Louisiana, Nashville's Music City Center and Vanderbilt's Innovation Pavilion – the dinner was held in the Wond'ry, part of that building.
"After Dad passed away, we knew what we wanted to honor about my father," said Pastrick, who is a member of the Vanderbilt Board of Trust. "The Clark Scholars Program is the perfect program to embody his values.
"My dad believed very strongly in leadership, and you were all leaders before you even got to Vanderbilt, because that's who comes here," Pastrick said. "We wanted to make more engineering leaders, but to do that, you need business courses. Dad knew that after he saw his first balance sheet."
To that end, the students are introduced to numerous leadership programs, business courses, engineering management minor and immersive and service learning opportunities.
Chancellor Nicholas S. Zeppos said he recalled meeting Jim Clark in the construction legend's Washington office. Clark looked down from the window and said, "There's the bus stop I used to get to the University of Maryland." Coming from a family of modest means, Jim Clark was awarded a state scholarship that funded the education that set him on his career path.
"Mr. Clark embodied the power of an engineering education," Zeppos said. "You are the Clark Scholars at Vanderbilt, but you are part of an engineering army of leaders."
Vanderbilt received a $15 million gift earlier this year to establish the Clark Scholars Program at the School of Engineering. Other Clark Scholars Programs are at George Washington University, Johns Hopkins University, University of Maryland, University of Pennsylvania, Stevens Institute, University of Virginia and Virginia Tech.
Considering the scholarship's scope at Vanderbilt and beyond brought one word to the mind of Christopher Rowe, the program's faculty director: grateful.
"If not for Jim Clark, none of us would be in this place tonight," said Rowe, who is also director of the Division of General Engineering. "We are also grateful to you 10 students who chose to join this program and fulfill the vision of Jim Clark for a new generation of engineers."
Here is the full list of Clark Scholars at Vanderbilt, their hometowns and majors:
Joseph Holliday, Kansas City, Missouri, computer science
Yoanna Ivanova, Buffalo Grove, Illinois, biomedical engineering
Adrianna Johnson, Ringgold, Georgia, mechanical engineering
Jackson Mejia, Minneapolis, Minnesota, mechanical engineering
Timothy O'Brien, Gables, Florida, computer science
Reese Phillips, Murrieta, California, computer engineering
Stephanie Schroth, Olmsted Township, Ohio, mechanical engineering
Shyla Slater, Metairie, Louisiana, chemical engineering
Monika Wojnowski, Chicago, Illinois, biomedical engineering
Jeremiah Woldabezgi, Alexandria, Virginia, computer science
By fall 2021, the Clark Scholars Program at Vanderbilt is expected to be 40 students strong.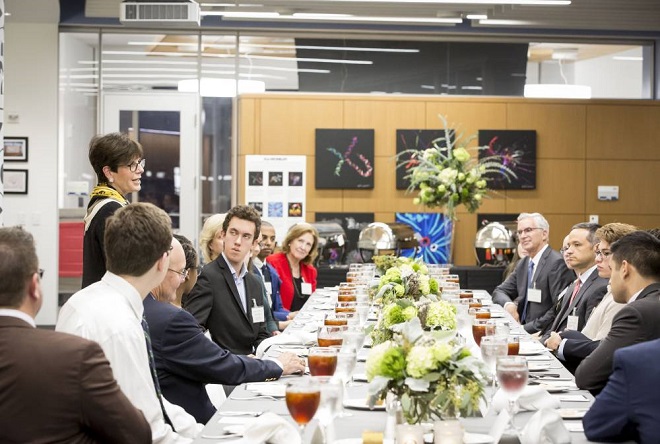 Media Inquiries:
Heidi Hall, (615) 322-NEWS
heidi.hall@vanderbilt.edu
Posted on Monday, November 27, 2017 in A. James Clark, Christopher Rowe, Clark Foundation, Clark Scholars, engineering undergraduate, Nicholas S. Zeppos, undergraduate scholarship,Alumni, Biomedical Engineering, Chemical and Biomolecular Engineering, Civil and Environmental Engineering, Electrical Engineering and Computer Science, Mechanical Engineering, News, News Sidebar