Council introduces the Engineering Cup for more E-Week participation, competition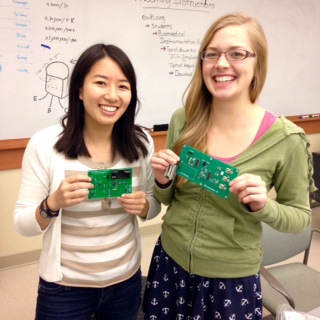 Expect to see more students playing harder at this year's E-Week festivities as the event takes on a new dimension: a race to the Engineering Cup.
Engineering Council organizers said the idea came from the Hogwarts house cup in the Harry Potter series of books. Instead of jewels in an hourglass keeping track of each house, an LED display will keep track of majors.
"One of our new members, Nick Wigginton (BME'18), actually came up with that idea," said Khloe Gordon (ChemE'17), vice-president of the E-Council. "We thought it would be a good way to encourage pride in what you do, bond with people in your major and offer friendly competition among majors. We're all pretty stressed and working hard, so fun events like these are a welcome distraction."
Majors will earn points through a formula that takes into consideration percentage of students in attendance, wins and amount of food collected for Nashville hunger charity Second Harvest. The prize will be a cup-style trophy with a plaque recognizing each year's winning major.
E-Council President Christian Motyczka (CS'18) pointed to another new event: Tuesday's line-following-robot competition, sponsored by National Instruments.
"National Instruments is providing several kits, and the purpose is to build a robot capable of following a tabletop track, just a line with dashes and curves," he said. "It will be controlled by microcontroller that has been programmed, using photoresistors to read the line."
The more athletic events include another homage to Harry Potter, Quidditch, plus Bubble Soccer.
Vanderbilt's Engineers Week coincides with the event's national observance. Established by the National Society of Professional Engineers in 1951, it's dedicated to explaining and promoting the profession to ensure a diverse and well-educated future engineering workforce.
Sponsoring organizations are: AIChE, ASME, VandyApps, Theta Tau, National Instruments, Engineering Council, Tau Beta Pi, IEEE, Eta Kappa Nu, VUSE Dean's Office, SWE, Phi Sigma Rho, NSBE, SHPE, SASE, Engineers Without Borders, Engineering World Health
Here is the full list of events, all in and around the Featheringill Hall Atrium unless otherwise noted.
Monday (2/20)
Noon-1 p.m.: Faculty Appreciation Luncheon
2-4 p.m.: Rube Goldberg Competition
6-8 p.m.: National Instruments kickoff
Tuesday (2/21)
8-10 a.m.: National Instruments breakfast
8 a.m.-4 p.m.: National Instruments construction session (The Wond'ry)
Noon-1 p.m.: E-Cup: Minute to Win It
2-4 p.m.: Destruct-a-Thon app designing event
4-5:30 p.m.: National Instruments judging and awards (The Wond'ry)
Wednesday (2/22)
Noon-2 p.m.: Liquid nitrogen ice-cream making
1-3 p.m.: Medical kit building
4-5 p.m.: Order of the Engineer ceremony
7-9 p.m.: E-Cup: Trivia
Thursday (2/23)
12 p.m.-2 p.m.: ASCE Bridge Building Competition
4-6 p.m.: E-Cup: Quidditch (Recreation Center fields)
Friday (2/24)
2-4 p.m.: E-Cup: Bubble Soccer (Recreation Center fields)
4-5 p.m.: E-Cup closing ceremony
Contact
Heidi Hall, (615) 322-6614
Heidi.Hall@Vanderbilt.edu
On Twitter @VUEngineering