Design Day serves up a feast of ingenuity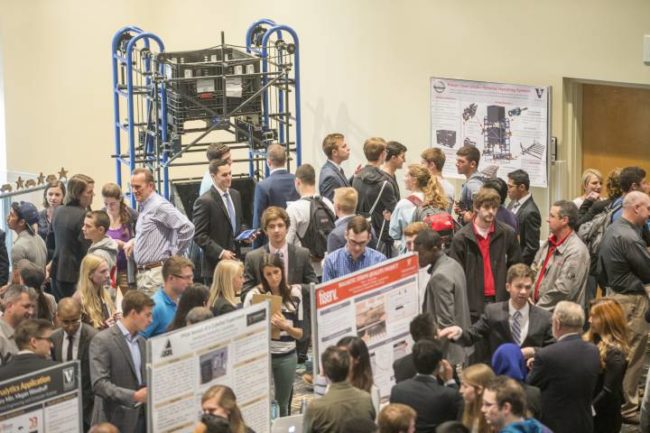 The School of Engineering's annual Design Day is a banquet of innovation, problem-solving, teamwork, and design thinking at work.
The 2017 event – a mashup of a sophisticated science fair and electronics show – featured 70 teams of graduating seniors standing by to demonstrate their engineering answers to real-life challenges. Corporate and nonprofit sponsors propose the problems, advise the teams throughout the academic year and own the intellectual property at the end of it.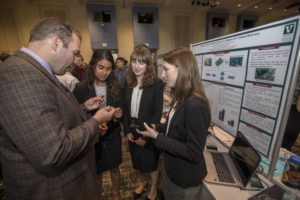 The scope of the projects was broad, ranging from an in-hear device to block the noise of medical alarms for ICU patients; a custom apparatus for two Nashville aerial dancers; a two-wheel dynamic center of gravity wheelchair; energy-efficient home designs; and a prototype low-cost robotic vehicle to collect deep sea samples.
One team of mechanical engineering seniors, working with NASA's Marshall Space Flight Center, created an interface plus a library of three-dimensional parts and tools for in-space manufacturing with 3D printing technology. An interdisciplinary team of seniors in electrical, computer, and biomedical engineering used a game engine to translate MRI brain scans into 3D images to provide less ambiguous data and, in time, perhaps assist in neurosurgery.
The Student Life Center was abuzz for three hours while sponsors, judges, professors, advisers, and other students checked out the projects.
SMART vest calls for help

A bulletproof vest that calls for backup when injured officers can't emerged as one of the most talked-about offerings, holding promise to move from undergraduate project to life-saving purchase.
The special vest was the brainchild of GPS-911, a partnership of current and former law enforcement officers who want to keep their colleagues safer. They applauded the students' creation, called HERMES – Health Evaluation and Real-time Monitoring-based Emergency Signaling.
Company partner and former New York Police Department officer Jim Shepherd said he carried out the grim task of finding fellow officers' bodies in the Twin Towers wreckage after the 9/11 terrorist attacks. In many cases, their ballistic vests, their names printed neatly inside, were the only identifying feature that survived the collapse.
The HERMES vest monitors the wearer's heartbeat and breathing and calls for backup when it senses an officer has been shot or fallen on the ground. Sensors indicate the presence of blood, as opposed to sweat or other liquid, by detecting blood sugar.
"Our integration algorithm continuously reads the sensor measurements from the Arduino board and compares it against pre-determined threshold values that we think would define an emergency," said team member Kathryn Snyder, an electrical engineering major. "Once that threshold has been met, an alert text message is sent to a specified phone number. Data is also transmitted whether or not the threshold is met to a website where you can see the live graphs of the officer."
A toy car all can enjoy

Another team stood nearby with a remarkable kid-sized toy car, outfitted for children with mobility impairments. Vanderbilt is a longtime partner with Go Baby Go, which retrofits battery-operated cars for kids with disabilities – making the seat more stabilizing and the stop-and-go and steering controls easier to use.
Unlike the Go Baby Go cars that are gifted to one child, however, this car is going to a preschool that enrolls all types of children – so both those with and without disabilities can use it.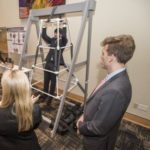 "We're donating this to High Hopes Preschool, which combines typical children with children that have mobility impairments," said Amanda McCausland, a biomedical engineering major. "It can be used by everyone."
The team used a 3D printer to fabricate many of the needed parts.
For Design Day, the  faculty advisers in electrical engineering and computer science were Ralph Bruce and Jules White; mechanical engineering, Robert Webster III and Thomas Withrow; biomedical engineering, Matthew Walker III;  chemical and biomolecular engineering, Russell Dunn and Scott Guelcher; civil and environmental engineering, Lori Troxel.
Media Inquiries
Heidi Hall, (615) 322-NEWS
heidi.hall@vanderbilt.edu
Posted on Friday, April 28, 2017 in Design Day, DIVE, Senior Design Day, undergraduate research,Biomedical Engineering, Chemical and Biomolecular Engineering, Civil and Environmental Engineering, Electrical Engineering and Computer Science, Home Features, News