Emeritus professor integral to early success of materials science program dies
William Frances Flanagan, who taught at Vanderbilt University for more than 30 years and was renowned for his research on the causes of stress corrosion cracking in alloys and metals, died June 15 in Maryland. He was 90.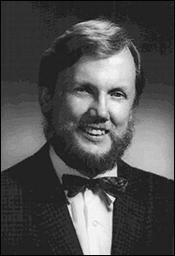 "Bill" Flanagan was recruited from General Motors to Vanderbilt in 1968 as an associate professor of metallurgical engineering and materials sciences. He was an important contributor to the growth and early success of that field at Vanderbilt. In 1972, he was promoted to professor.
"Not only was Dr. Flanagan integral to the early success of Vanderbilt's materials science program, he had an enthusiasm for research in that field that his students found infectious," said colleague Robert W. Pitz, professor of mechanical engineering at Vanderbilt and chair of the department. "He was involved in many aspects of improving curriculum at the School of Engineering."
Flanagan also researched dislocation theory and modeling; strengthening mechanisms in solid solutions, alloys and intermetallics; applied physics of solids; kinetics and morphology of phase transformation; and magnetic behavior.
A native of Cambridge, Massachusetts, Flanagan served in the Navy and then earned a doctoral degree in science (Sc.D) in physics and metallurgy from the Massachusetts Institute of Technology in 1959. Before coming to Vanderbilt in 1968, he taught at MIT and the University of Washington. Subsequently, he was hired by GM as senior research physicist in its research laboratory.
Flanagan was published in more than 80 journals and publications, such as CORROSION, Journal of the Electrochemical Society and Acta Metallurgica et Materilia. He served as chair of the Mechanical Metallurgy Committee of the Metallurgical Society and spoke at many conferences and symposia. He consulted for Boeing Airplane Co., the Army Materials and Mechanics Research Center, Sandia Corporation, the U.S. Office of Technology Assessment and the World Bank China Research Evaluation Project.
Survivors include wife Gail Howard Flanagan, five daughters and 14 grandchildren. Memorial gifts may be made to The Asbury Foundation, Inc. Benevolent Fund, 201 Russell Ave., Gaithersburg, Maryland.
A memorial celebration was held at Asbury Methodist Village in Gaithersburg, Maryland.
Media Inquiries:
Jim Patterson, (615) 322-NEWS
jim.patterson@vanderbilt.edu