Engineering alums Capps, Card pass along advice to athletes, ROTC members at banquet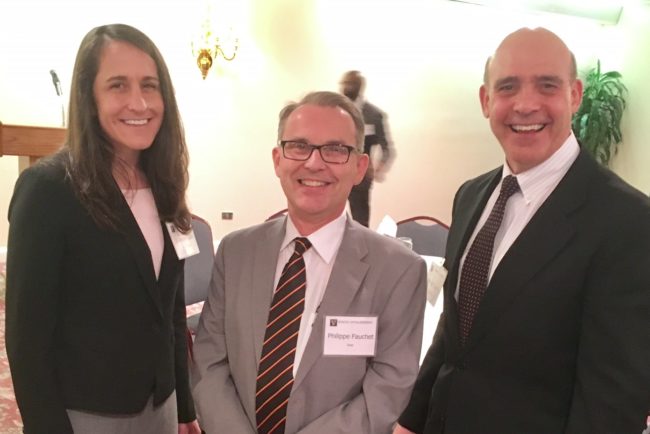 A  Drexel University professor and a retired vice admiral, both School of Engineering alums, addressed a crowd of engineering undergraduates active on Vanderbilt's athletic teams and in ROTC or NROTC programs. Their advice, given at Monday night's banquet to honor those students, ranged from making the most of rich learning and social opportunities to recognizing when you simply must power through an unpleasant task.
Dean Philippe Fauchet launched the event four years ago after watching his son play Division 1 tennis while majoring in business and realizing the unique stressors that come with that.
Shannon Capps (BE'07), an assistant professor at Drexel University in the Civil, Architectural, and Environmental Engineering Department, told the students her experience at Vanderbilt prepared her to do three major things: recognize and emulate excellence in others, optimize experiences and learn perseverance.
The Knoxville, Tennessee, native attended Vanderbilt on an engineering scholarship and ran cross country and track.
"Vanderbilt has a rich plethora of ways to expend time and energy," Capps said. "I learned to prioritize and optimize those.
"As a runner, I repeated the same motion over and over. I had to learn mile splits, and not to take them too fast or too slow."
She earned her Ph.D. in chemical and biomolecular engineering from Georgia Institute of Technology and held positions at the U.S. Environmental Protection Agency and University of Colorado-Boulder before joining Drexel in September. Her research focuses on air quality and climate issues.
Ret. Vice Admiral Kendall Card (BE'77) graduated with a degree in mechanical engineering and was commissioned as a naval officer soon after. He began his career as a helicopter pilot and served tours at sea in Desert Shield and Desert Storm. After graduating from the Navy's Nuclear Power School, he was promoted to commanding officer of the USS Rainier, then retired in 2013 and joined Oak Ridge National Laboratory as director of U.S. Department of Defense and Intelligence Community Integration for the Global Security Directorate.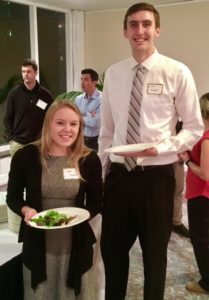 Card said the audience qualified as "special overachievers" just by being in the room. He encouraged them to build a foundation of people who will support their goals and remembered a roommate who did just that, dragging Card to the library night after night.
"I finally understood that, while others might really enjoy the academic environment, hard study was not going to be fun for me," he said. "I had to apply my ingrained work ethic and get through it."
The result, he said, was an engineering degree that proved to be a golden ticket to life.
The banquet was organized by Burgess Mitchell, assistant dean for student affairs.
Student athletes invited were: Daniel Arthur, BME'17, cross country; Kacie Breeding, BME'20, cross country; Maria Bulanova, CS'20, bowling; Abbey Carlson, undeclared 2020, golf; Caleb Casolaro, BME'19, cross-country; Fernanda Contreras, ME'19, tennis; Kendyll Dellinger, ME'17, bowling; Sam Dobbs, CS'19, football; Madison Eaker, EE'19, swimming; Waqqas Fazili, ChemE'19, cross country; Nikos Gkotsis, ME'17, cross-country; Sarah Goodale, BME'17, track; Andrew Irvine, BME'20, cross country; Luke Kornet, CS'17, basketball; Kade Mayle, BME'19, football; Hannah Menard, ChemE'19, soccer; Tommy Openshaw, ES'17, football; Baffour Osei, ME'18, football; Ariana Perez, ChemE'18, bowling; Kristen Quah, BME/EE'19, bowling; Michael Sandborn, undeclared 2020, baseball; Josh Smith, ME'19, football; Harrison Thomas, BME'20, cross country; Sara Tsai, ME'19, cross country; Jake Van Geffen, CE'17, cross country.
Navy ROTC students invited were: Roger Barrett, BME'17; Mackenzie Clair, ChemE'17; Julia Collins, ES'17; Michael Jabaley, BME'17; Renee Lassen, ME'17; Andrew Quilliams, ChemE'17; Samuel Elkins, ME'18; Ryan Shea, EE'18; Justin Stone, EE'18; Colburn Wagner, EE'18; Megan Mohundro, ME'20; Peter Valerius, ME'20; Christopher Walding, ChemE'20; Will Bearden, mechanical engineering graduate student.
Army ROTC students invited were: Paul Hart, BME'17; John Henry Moore, ME'17; William Savage, ES'17; William Montgomery, CS'18; Savino Brusco, ES'19; Kenny Cho, ME'20.
Contact
Heidi Hall, (615) 322-6614
Heidi.Hall@Vanderbilt.edu
On Twitter @VUEngineering
Posted on Tuesday, January 24, 2017 in Army ROTC, athletics, Nashville, NROTC, Vanderbilt,Alumni, Biomedical Engineering, Chemical and Biomolecular Engineering, Civil and Environmental Engineering, Electrical Engineering and Computer Science, General Engineering, Home Features, Media, News