Engineering students, organizations, labs contribute to Maker Faire's success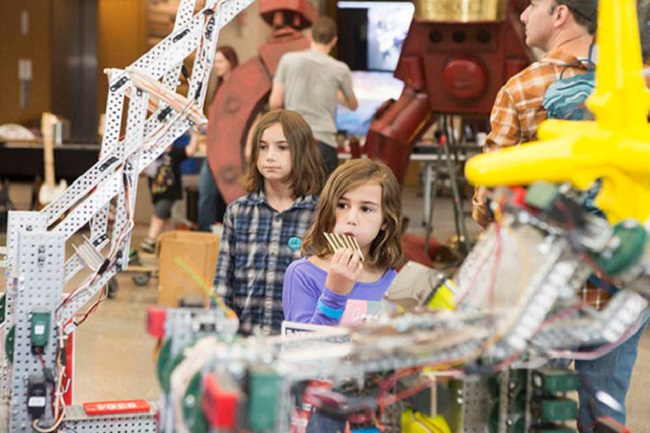 The Nashville Mini Maker Faire, held for the first time at The Wond'ry, attracted more than 4,000 visitors and 93 exhibitors – a jump in attendance of more than 50 percent and double the maker participation over 2016.
At least 25 percent of the exhibits had Vanderbilt ties and many of them involved students, organizations and labs from the School of Engineering, which was among the sponsors. A sampling:
A remote, solar-powered weather station from the Vanderbilt Satellite Club (VUSAT) to illustrate the design systems required for an orbital satellite;
Interactive demonstrations from the Laboratory for Systems Integrity and Reliability (LASIR) to show technologies for monitoring the health of structures, including a test sample and a way to add input force to a structure component;
A Go Baby Go Ride modified by undergraduates in biomedical engineering to enhance mobility for children with disabilities;
Rocket assembly CAD and software-integrated rocket flight simulation from the Vanderbilt Aerospace Design Laboratory, which designs novel rocket-flyable payload systems;
A display of powered and passive prosthetic limbs, exoskeletons and smart clothing from the Vanderbilt Center for Rehabilitation Engineering & Assistive Technology.
This was the first year the Nashville Mini Maker Faire was held on Vanderbilt's campus and spanned two days, changes organizers said helped the event grow. Kevin Galloway, Vanderbilt's Design as an Immersive Vanderbilt Experience (DIVE) director, worked with Make Nashville organizers on logistics and helped line up student volunteers.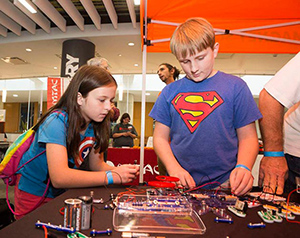 "It was terrific to bring so many people with different experience and talents together," Galloway said. "I've heard many people sharing information on how they produce their work."
Galloway, also an assistant research professor of mechanical engineering, had an exhibit of his own as well. He showcased the technology that that inspired Baymax from Big Hero 6 – soft robotics, an emerging field that creates actuators and sensors from elastomers and textiles. Visitors at the booth could handle and pump up soft actuators.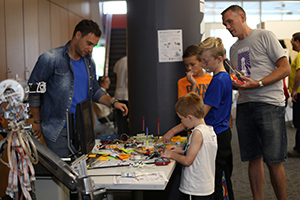 The Advanced Robotics and Mechanism Applications (ARMA) lab, which is affiliated with the Vanderbilt Institute for Surgery and Engineering, had two offerings. A "drawing robot" that ARMA students have used during a Harpeth Hall "Winterim" class captured the kids' attention, said Long Wang, a Ph.D. candidate in mechanical engineering.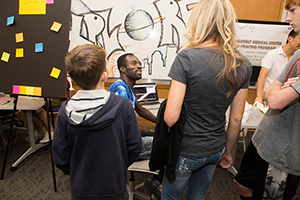 Adults were more interested a robotic surgical system in development – TURBot, or Transurethral Resection Robot, designed to improve outcomes in bladder cancer surgery.  Bladder cancer has a disproportionately high treatment cost because existing surgical tools limit visualization and staging and often result in incomplete tumor resection and recurrence.
Wang said the adults also were very interested in hearing about students' career plans.
Visitors of all ages streamed into the Wond'ry on Saturday and Sunday to see everything from making wool yarn, origami and costumes to robots, supercomputers and a singing Tesla Coil. It was the largest event in the faire's five-year history.
Miranda Nelson, the faire's producer, said attendees enjoyed the opportunity to experience the Wond'ry, Vanderbilt's center for making and entrepreneurship.
"I want to thank everyone involved, including the Vanderbilt personnel who handled facilities, parking, maintenance and cleaning, plus all the Wond'ry staff and student volunteers," she said. "We couldn't have done it without you."
Posted on Thursday, October 5, 2017 in ARMA Lab, CREATE, Go Baby Go, Kevin Galloway, LaSIR, Maker Faire, Vanderbilt Aerospace Design Laboratory, VUSAT, Wond'ry,Biomedical Engineering, Chemical and Biomolecular Engineering, Civil and Environmental Engineering, Electrical Engineering and Computer Science, Home Features, Mechanical Engineering, News, News Sidebar