Engineering school staff member receives Commodore Award
The Commodore Award, Vanderbilt's highest staff honor, was presented to an engineering school staff member during the Service Award Celebration Jan. 18 in the Student Life Center.
Karen Page, department administrator in civil and environmental engineering, received a cash prize and an engraved crystal bowl from Chancellor Nicholas S. Zeppos. The award is given annually to recognize and reward significant individual achievement in Vanderbilt's pursuit of excellence in education, health care, research and community service.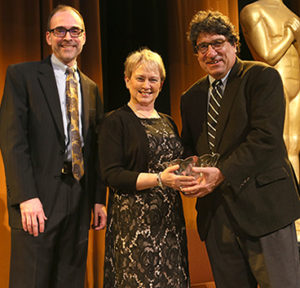 Page, who was introduced by Doug Adams, Daniel F. Flowers Professor and chair of the Department of Civil and Environmental Engineering, joined Vanderbilt in 1978 in a medical center office on a project funded by a grant from the National Institutes of Health. She transferred to the Department of Microbiology, at the time located in the School of Medicine. In 1987, she moved to the College of Arts and Science and into molecular biology, and later, biology. In 1998, she joined the School of Engineering.
"I like to say Karen came home," said Adams, who drew laughs from the audience. "She has worked incredibly hard for the department, and Karen is held is such high regard. She is most deserving of the Commodore Award." A tribute video included vignettes of Adams, and a number of colleagues and engineering professors highlighting Page's contributions and character.
"I am honored and humbled by this award. Vanderbilt University has been very good to me for a very long time. It has been and continues to be my pleasure to serve in each capacity in support of all of its excellent missions," Page said.
The award recognizes individuals whose overall performance accomplishments regularly and consistently far exceed performance expectations, reflecting a high level of service, dedication, conscientiousness, compassion and applied skill; those who have handled a high-impact or critical situation that had important consequences for Vanderbilt or the community; or those who developed new or improved existing processes that resulted in a significant improvement in productivity and/or cost savings.
Commodore Award recipients are nominated by fellow staff members, faculty or students and are selected by a committee that includes the previous year's winner or winners and representatives of Vanderbilt's staff, administration and faculty.
Contact:
Brenda Ellis, (615) 343-6314
Brenda.Ellis@Vanderbilt.edu
Twitter @VUEngineering