National experts diagnose 'epidemic of uncertainty' on healthcare construction, tech investment, patient experience
In today's political climate, uncertainty impairs the ability of health care facilities to plan for the future, expand to meet demand, and take full advantage of technological leaps.
How to balance that uncertainty with patient needs, aging infrastructure, and growing security threats is the focus of the School of Engineering's 11th Annual Healthcare Design & Construction Symposium, which begins Wednesday.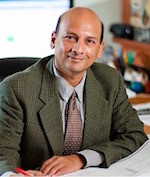 Hosted by the Department of Civil and Environmental Engineering, the two-day event features national names as well as local experts. Among them:
Suzanne Gelderman Rivera, associate partner at McKinsey & Company and the firm's expert on Congressional efforts to repeal and/or replace the Affordable Care Act, is the keynote speaker.
David Dill, president of Lifepoint Health Inc., will moderate a panel of healthcare executives on "certainty in uncertainty."
Art Ehuan, managing director of Alvarez & Marsal, will discuss cyber threats to healthcare systems, including malware and the Dark Web.
Neil Halpern, director of the Critical Care Center at Memorial Sloan Kettering, will explore what ICUs in 2050 might look like.
The sold-out symposium comes as the deadlock in Washington D.C. affects nearly every aspect of healthcare operations, said Sanjiv Gokhale, professor of the practice of civil engineering and the symposium organizer.
"Major capital investment decisions all hinge on what is going to happen," he said. "It is a significant challenge to build new facilities or renovate existing ones."
The "wait and see" approach also affects non-critical technology spending. Healthcare systems spend as much on technology as they do the buildings themselves, said Gokhale, who also is Director of Graduate Studies in Construction Management.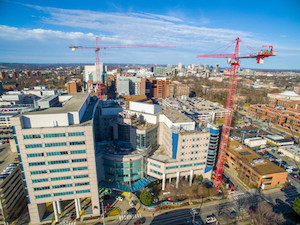 A prolonged impasse could affect trends in hospital design embraced by clinicians, patients, and family members, he said. Private rooms, larger rooms and natural light, for example, positively affect infection control, family involvement and faster recovery.
Gokhale likened the virtual "spending freeze" by healthcare facilities to the banking industry's lending shutdown of the recession.
"In some ways there is similar uncertainty," he said. "Everyone is trying to grapple with it."
The symposium begins Wednesday at 1 p.m. in Featheringill Hall. Thursday events are from 8 a.m. until 4 p.m.