Faculty partnerships explored by Army Research Lab's chief scientist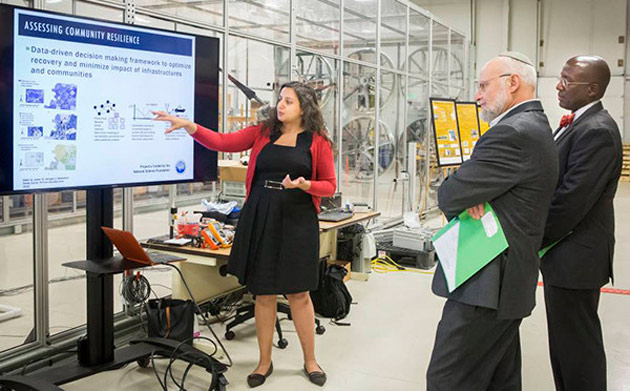 The chief scientist of the Army Research Lab visited Vanderbilt to explore research collaborations with faculty who are conducting research on robotics, artificial intelligence and resilience.
The visit was facilitated by Jaret Riddick, director of ARL'S Vehicle Technology Directorate, who serves on the School of Engineering's Board of Visitors.
Alexander Kott's day on campus was the first OutReach event for the provost's new Leveraged Proposal Organization and Development, or L-POD, program. The L-POD program is a component of PIERS, the Provost's Initiative to Enhance Research and Scholarship, an effort to bolster the university's competitiveness in research funding.
One of L-POD's goals is to strategically map Vanderbilt's research strengths with external sponsors' priorities and develop relationships with agencies like the ARL.
"Vanderbilt is home to incredible faculty conducting important research, and through the L-POD program we can showcase them and their work with funding agencies and sponsors," said Provost and Vice Chancellor for Academic Affairs Susan R. Wente. "OutReach events like these create new ways for faculty to advance their research."
Kott, whose own expertise is in cybersecurity, visited two engineering labs, met with key faculty to discuss brain research, and made a presentation to VU faculty, staff and students in early November.
"Vanderbilt has an established culture of bringing together basic science, technology and invention to develop human-machine interfaces, which intersects directly with much of the work at the Army Research Lab," said Padma Raghavan, vice provost for research. "Dr. Kott's visit is a wonderful opportunity for faculty to make these connections."
At the Laboratory for Systems Integrity and Reliability, Vanderbilt faculty and staff made presentations on diagnostic systems for ensuring vehicle safety, computational models for making decisions during a crisis, and simulations to develop resilient transportation systems.
"LASIR's unique space allowed us to demonstrate research that progresses from the material, component, vehicle and system scales, showing Vanderbilt's range of scholarship across this continuum," said Douglas Adams, the Daniel F. Flowers Professor, chair of civil and environmental engineering, and co-director of LASIR.
At the Center for Intelligent Mechatronics, Director Michael Goldfarb, the H. Fort Flowers Professor of Mechanical Engineering, demonstrated robotic exoskeletons and prosthetics that are used to enhance and rehabilitate physical capacities.
"Our goal is to design smart prosthetics that coordinate their actions with the central nervous system and be just as adaptable and flexible as the human system," Goldfarb said. "This technology supports and augments the human body and has the potential to enhance the capabilities of the soldier of the future."
"Vanderbilt's outstanding engineering faculty are committed to solving real-world challenges like those experienced on the battlefield," said Philippe Fauchet, dean of the School of Engineering and holder of the Dean's Chair in Engineering. "Now is a great time to capitalize on the research capabilities of our two institutions."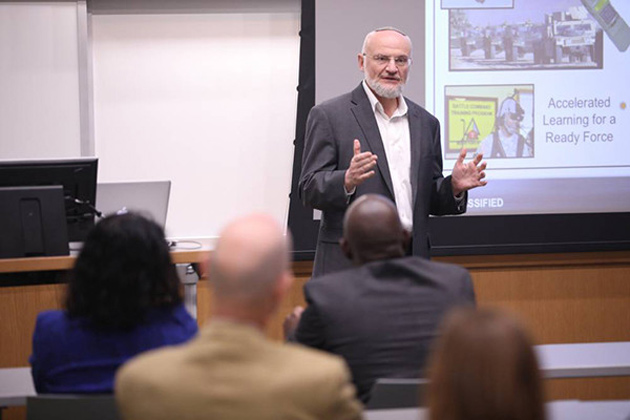 Kott met with neuroscientist Mark Wallace, dean of the Graduate School and a professor of hearing and speech sciences who holds a Louise B. McGavock chair, to discuss how the brain integrates large quantities of sensory information. "We know that multisensory stimuli can impact behavior and influence behavioral change," Wallace said. "This is an important topic given that soldiers are interacting with increasing numbers of intelligent devices on the battlefield."
Kott closed his visit by delivering a talk to VU faculty, students and staff on the complexities and vulnerabilities associated with the use of artificial intelligence on the battlefield. "In the past, we have focused on security, but security may not be a realistic option," Kott said. "We must aim for intelligent resilience."
This research is done via ARL's partnerships. With its Open Campus framework, ARL collaborates with researchers around the world. "From my position on the Board of Visitors, I've seen Vanderbilt's engineering profile rise over the last few years and foresee potential partnerships between ARL and Vanderbilt," the ARL's Riddick said.
Additional OutReach events are in the planning stages to develop sponsor relationships and help Vanderbilt establish a strong and diverse matrix of support. For more information, contact Hilda McMackin and Liane Moneta-Koehler, L-POD research development program managers.
Media Inquiries:
Jan Read, (615) 322-NEWS
jan.read@vanderbilt.edu
Posted on Thursday, November 30, 2017 in artificial intelligence, Douglas Adams, funded research, Hiba Baroud, resilience, robotics, Susan Wente, U.S. Army, vice provost for research,Biomedical Engineering, Chemical and Biomolecular Engineering, Civil and Environmental Engineering, Electrical Engineering and Computer Science, Engineering & Science Building, News, News Sidebar, Research