GHP co-founder, distinguished alumnus Steve Hays dies
Steve Hays, the co-founder of Nashville-based Gobbell Hays Partners Environmental + Architecture, died Sept. 27 after an extended illness. He was 66.
Hays, considered a national expert on asbestos-removal issues, was chairman emeritus of the company he co-founded with Ron Gobbell. GHP is 14th-biggest architectural firm in Nashville, according to Nashville Business Journal research.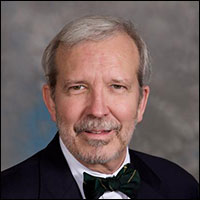 Hays graduated from Vanderbilt University in 1973 with a bachelor's degree in chemical engineering and was named to the school's Academy of Distinguished Alumni in 2013. He is a former member of the school's Board of Visitors. Hays also was one of four donors who established the Frank Parker Scholarship in honor of the school's Distinguished Professor of Environmental and Water Resources Engineering, Emeritus.
Hays was a national leader in identifying and safely mitigating hazards related to asbestos, mold and lead-based paints in buildings for more than 30 years. His work in environmental management and abatement engineering for those risks at more than 10,000 facilities helped catapult GHP to international prominence with clients and projects from Anchorage, Alaska to Dubai, in the United Arab Emirates.
Appointed to the Board of the National Institute of Building Sciences by President Bill Clinton, he was inducted into the College of Fellows for two distinguished professional societies, the American Industrial Hygienists Association and the American Council of Engineering Companies. Among his many honors are the Mortimer M. Marshall Lifetime Achievement Award from the National Institute of Building Sciences in 2013 and the Donald E. Cummings Memorial Award from the American Institute of Industrial Hygiene presented earlier this year.
He taught at Georgia Tech Research Institute and The Environmental Institute in Georgia and was a guest lecturer at University of California, Berkeley and Texas A & M University. He frequently presented to professional groups throughout the United States and Canada and served frequently as an expert witness in legal action involving asbestos, mold and lead-paint in buildings.
Hays has co-authored two books and numerous features in trade and professional publications on various environmental issues.
He is survived by his daughter, Diana Hays, sister, Connie Richardson, who is CFO of GHP, and several nephews and nieces.