Grad student receives leadership award at Cuninggim Women's Center ceremony
Ghina Nakad, a doctoral student in the Department of Civil and Environmental Engineering, was recognized for her leadership and contributions to the advancement of women during the Margaret Cuninggim Women's Center's annual Cuninggim Lecture and awards ceremony March 23 at the Student Life Center.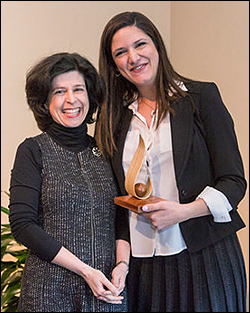 Nakad was honored with the Margaret Cuninggim Women's Center Leadership Award. The award honors students who demonstrate leadership in activities that contribute to the achievements, interests and goals of women or that promote gender equity.
Nakad is active in promoting the study of science, technology, engineering and math among young women and girls in the community.
She has led interactive sessions on engineering and women in STEM for the Girl Scouts, for students at Rosa L. Parks Middle School, and for the School for Science and Math at Vanderbilt. Her work with young women and girls is voluntary, as there are no research initiatives in her home department focused on gender equity in STEM.
In addition to volunteering in the community, Nakad initiated discussions surrounding maternity leave and returning to work after leave for students in the School of Engineering, modeled after her own experiences. These discussions led to a formal maternity leave for students as well as a dedicated lactation space in Featheringill Hall.
As her nominator stated, Ghina "wants the world to know that women are capable of doing anything they want."
Contact:
Brenda Ellis, (615) 343-6314
Brenda.Ellis@Vanderbilt.edu
Twitter @VUEngineering