Grand opening of nanoscale research facilities wows crowd
Excited visitors got a firsthand look Tuesday at the new, state-of-the-art facilities for the Vanderbilt Institute of Nanoscale Science and Engineering, with the showpiece being a 10,000-square-foot, commercial-grade cleanroom. About 300 people attended the grand opening celebration.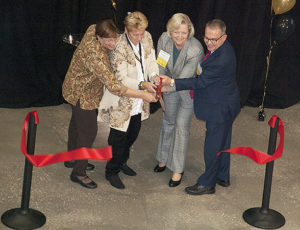 The VINSE Cleanroom in the Engineering and Science Building more than triples the space researchers have used in the Stevenson Center since 2003. The room speaks to Vanderbilt's growing investment and expertise in nanoscale engineering. With its main walkway along a two-story glass wall facing the Innovation Pavilion, passersby can see cleanroom workers, perhaps inspiring some students to consider nanoscale research.
"Today we are brought together by science on the smallest scale. But, it is no small matter when a community comes together," said VINSE Director Sandra Rosenthal, the Jack and Pamela Egan Professor of Chemistry.  Rosenthal acknowledged several local and university officials as well as visitors from high schools and middle schools who attended the grand opening.
Rosenthal also recognized Lenard Feldman, now a Distinguished Professor of physics at Rutgers University, and Stevenson Professor of Physics Richard Haglund who first proposed the creation of what is now VINSE core facilities in the ESB.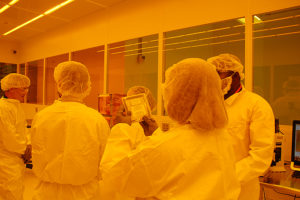 The core facilities include the cleanroom, analytical and nanocrystal support cores and an advanced imaging suite. The cleanroom provides cutting-edge nanofabrication tools for the development of materials and integrated devices as well as microfluidic and nanophotonic systems. An analytical lab located next to the cleanroom contains a comprehensive range of tools, and the imaging suite hosts a number of high-performance imaging platforms.
Rosenthal said the space was built to accommodate both existing faculty and future professors with specialized equipment needs. But the facility will do far more than help recruit top faculty and graduate students—it already hosts an undergraduate class in nanoscale semiconductor processing and fabrication and, in the spring, another undergraduate course in graphene transistors.
Faculty, researchers and graduate students in engineering, chemistry and physics use the space.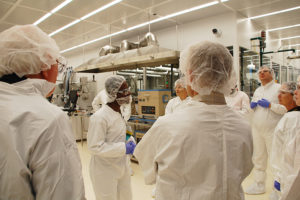 Philippe Fauchet, dean of the School of Engineering, and Lauren Benton, dean of the College of Arts and Sciences, noted the span of VINSE faculty from 13 academic departments, and the graduate program in Interdisciplinary Materials Science. Research areas include optics, medicine, energy and the environment, electronics, and computational nanoscience.
"Our purpose as engineers and scientists is to solve society's complex technical problems and make the fundamental discoveries that lead to invention and innovation," Fauchet said. Our shared goal is to improve the quality of life on our planet. It is this fact that makes VINSE's core facilities so important."
Fauchet said the ESB and VINSE's core facilities allows engineering and science departments to attract the best undergraduate and graduate students, postdocs, and faculty members to continue and expand their impactful work.
"VINSE, in so many ways, advances the university's values," Vice Chancellor for Academic Affairs and Provost Susan R. Wente  told the crowd at the grand opening. "It advances our values of research, education and outreach, and the center embodies all of these tenets in ways that I am incredibly proud of."
In addition to a ribbon cutting ceremony, the day's activities included tours of the cleanroom and imaging suites, public lectures by engineering professors Paul Laibinis and Douglas Adams and engineering graduate students Cole Brubaker and Kevin Miller, and eight poster presentations.
Posted on Friday, October 27, 2017 in cleanroom, computational nanoscience, electronics, energy and the environment, medicine, optics, Philippe Fauchet, Sandra Rosenthal, VINSE,Alumni, Biomedical Engineering, Chemical and Biomolecular Engineering, Civil and Environmental Engineering, Electrical Engineering and Computer Science, Home Features, Mechanical Engineering, News, Research