Heart valve disease research earns grad student a young investigator award
A biomedical engineering graduate student at Vanderbilt University has received a young investigator award for her work on heart valve disease.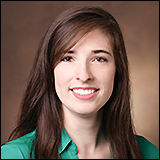 Doctoral student Meghan Bowler won the Allan D. Callow Young Investigator Award for best poster presentation at the 15th biennial meeting of the International Society for Applied Cardiovascular Biology.
Bowler investigates the mechanism of calcific aortic valve disease. Her poster was entitled "Cadherin-11 Loss Prevents Contraction in Aortic Valve Interstitial Cells." Calcification, or hardening and thickening, of the aortic valve is estimated to affect 25 percent of the Western population over 65 and is currently treated by valve replacement. Alternative therapies remain scarce, likely because the mechanism of calcification is largely unknown.
Cadherins are a family of cell adhesion proteins. Just like mortar between the bricks in a wall, they ensure that cells stay together. Cadherin-1 is a member of this family that mediates calcium-dependent cell-cell adhesion, and CDH11 is overexpressed in diseased human heart valves.
Bowler and Associate Professor of Biomedical Engineering David Merryman's study clarifies one of the underlying molecular mechanisms of heart valve calcification, specifically demonstrating that CDH11 affects how much the heart valve cells contract. The findings provide support for CDH11 as a potential molecular target for clinical treatment of calcific aortic valve disease.
Bowler is a member of Merryman's Mechanobiology Laboratory and a recipient of a prestigious  National Science Foundation Graduate Research Fellowship. Bowler plans to defend her thesis in the fall and is currently looking for opportunities to make a difference in industry, particularly in Europe. She is the second member of the Merryman Mechanobiology Laboratory to win the Callow award. MK Sewell-Loftin received the award in 2014.
The Young Investigator Awards are named in honor of Allan D. Callow, M.D., Ph.D. Callow was ISACB's founding president and a champion for the integral participation of trainees in ISACB meetings. Award applicants must be a full-time graduate student, fellow, or physician in residence with a submitted abstract to the ISACB meeting.
Contact:
Brenda Ellis, (615) 343-6314
Brenda.Ellis@Vanderbilt.edu
Twitter @VUEngineering
Posted on Monday, April 24, 2017 in Allan D. Callow Young Investigator Award, aortic valve disease, biomedical engineering, David Merryman, Meghan Bowler, Young Investigator Award,Alumni, Biomedical Engineering, Home Features, News, Research