How much more development can Nashville sustain?
Gubernatorial candidate Karl Dean joins top builders, architects, and brokers at annual Construction Management Symposium
Nashville has been on a roll, but Music City faces significant challenges to additional development, including high land prices, limited mass transit, increased traffic congestion, and a shortage of affordable housing for renters as well as homeowners, according to experts gathered for the 8th annual Construction Management Symposium.
Hosted by the Department of Civil & Environmental Engineering and the Construction Management Program, the daylong event Thursday included a Q&A with former Nashville Mayor Karl Dean, who recently announced a run for governor.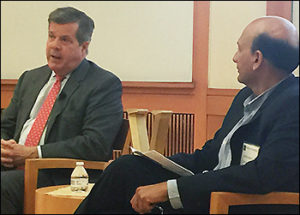 Sanjiv Gokhale, School of Engineering professor of the practice of civil engineering and director of graduate studies in construction management, didn't toss many softballs. He asked Dean about the failed AMP light rail project, gaps in affordable housing, and large tax incentives his administration granted.
Dean became Nashville's mayor less than a year before the U.S. slid into "The Great Recession." With joblessness increasing and property values falling, economic development became a priority, he said.
"None of us want to give incentives but you have to be able to compete," Dean said. "It is better to have the budget pie growing rather than shrinking or remaining stable."
The former mayor also noted the city denied many incentive requests. Proposed projects with little economic impact or low job creation numbers didn't get breaks, Dean said.
"You don't say yes to everybody," he said.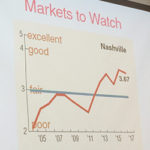 At the day's first panel, local industry leaders predicted fewer developers will say, "Yes," to building in Nashville in the near-term future. Already, building permits, a lagging indicator, are down, said Stephen Kulinski, managing director of CBRE in Nashville. Janet Miller, CEO/Market Leader of Colliers-International in Nashville, said sky-high land prices are causing big developers to think twice.
"Nashville used to be a low-cost city of moderate quality. Now it is a moderate-cost city of high quality," Miller said. "The math equation is becoming harder and harder to work."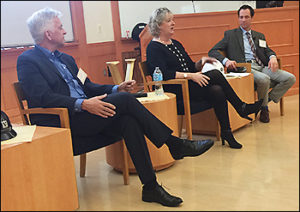 But Music City is far from cooked. Expect more commercial development, including renovation of existing properties, in the Gaylord Opryland corridor, Antioch, the Hickory Hollow area, as well as near the airport, they said.
Other sessions covered:
The redevelopment of established Nashville neighborhoods, including Germantown, Salemtown, Buchanan Street, Wedgewood-Houston, Rutledge Hill and the Nations.
Making Nashville a "Smart City," increasing connectivity of transportation, healthcare, safety and educational systems.
Making Nashville International Airport truly international to attract further development.
This year's event was titled "Nashville: Still the 'IT City.'" The symposium attracts some of Middle Tennessee's biggest names in development and sells out every year because it's known for accurate market forecasts for the construction industry.
Contact:
Pamela Coyle, (615) 343-5495
Pam.Coyle@Vanderbilt.edu
Twitter @VUEngineering
Posted on Thursday, March 9, 2017 in civil engineeing, construction management, Karl Dean, Nashville, Sanjiv Gokhale,Alumni, Civil and Environmental Engineering, Home Features, News