Hundreds of students produce tech marvels at VandyHacks IV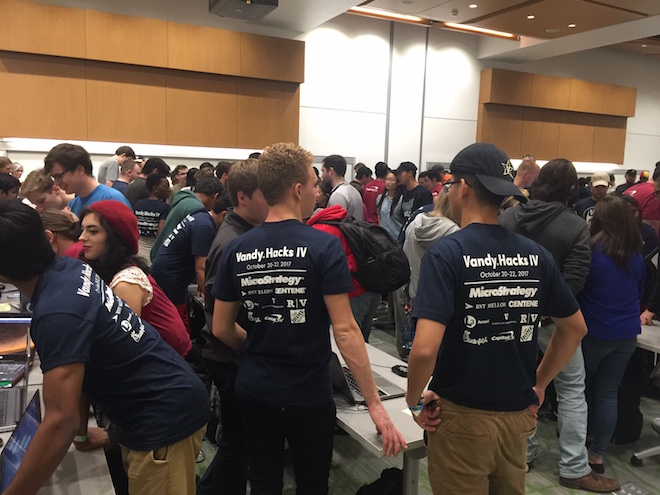 From a digital walking stick that uses sound and vibrations to a cyber security program dubbed Magnifirewall, from a better bank bot to interactive games, the projects at VandyHacks IV ranged from practical to whimsical to horrifying.
The horror was intentional as several teams produced shiver-inducing programs for popular virtual reality and gaming platforms. Seventy teams tapped into the personal experiences and observations of their members, devising an impressive scope of tech products and solutions in a condensed period of time.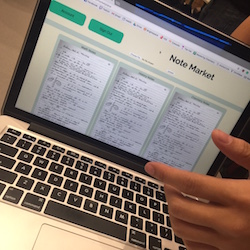 The top three winners were Guardyn, an app that uses computer vision to detect and report active shooters before civilians have time to contact 911; Congressect, an app that gives residents an easy way to discuss the actions and votes of their members of Congress – and gives U.S. Senators and Representatives information on constituent viewpoints; and AmblyoCare, a virtual reality game using Oculus Rift for treatment of Lazy Eye, or amblyopia, which affects up to 3 percent of children.
Organizers said the 36-hour event, which is completely student-driven and run, was the biggest and most geographically diverse hackathon in the group's four years. Holding it at the Vanderbilt's Innovation Pavilion and throughout the Engineering and Science Building that houses The Wond'ry for the second year in a row made for smoother weekend, they said.
"We had the highest number of students, highest number of teams, high-quality projects and expanded our geographic diversity," said VandyHacks co-president Irfaan Khalid, a junior double-majoring in computer science and applied math.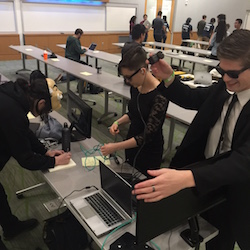 VandyHacks spent a significant part of its sponsorship money on four buses that brought students from the Illinois Institute of Technology and University of Illinois at Urbana-Champaign, Purdue University, Georgia Tech and the University of Florida to ensure those regions who wanted to come could do so.
More than 60 schools and 600 students registered in advance; about 450 students participated, still the largest in VandyHacks' history.
A few snapshots:
First-year Vanderbilt students Yoanna Ivanova (biomedical engineering), William Zhao (computer science) and their teammates created Note Market, an online marketplace where students can upload and sell class notes to peers. "We went with an area we know," Ivanova said
Users rate note quality, and the team wanted pricing to walk a fine line – affordable for students with legitimate absences but not so cheap "it incentives bad behavior" but not so high it creates a part-time job for note-takers.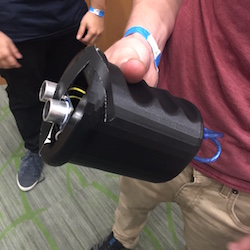 The C-Stick, a digital walking aid, uses both sound and vibration to signal distance. Ali Kilic and Jacob Fine, both first-year mechanical engineering students, were on the team.
Fine said he was inspired by the people with visual impairments navigating the Vanderbilt campus. "The cane has been around forever and this is the 21st Century," he said. "We wanted to give it an upgrade."
A team from Troy University programmed a bank bot named Jenna with voice recognition, using an API that CapitalOne has released for hackathons. A team from Vanderbilt's School of Arts and Science took the Muse meditation headband and turned brainwaves into sound, hoping to create a "symphony of minds" for its demo.
Judges included Robyn Mace, Nashville's chief data officer, who also spoke at Friday night's opening ceremonies.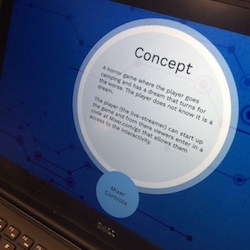 Sponsors also awarded prizes from Best Beginner Hack to Most Fun Hack and, in several instances. best hack using the sponsor's technology or service. VandyHacks sponsors were MicroStrategy, BNY Mellon, Centene, L3 ForceX, Vanderbilt School of Engineering, R|V, Chick-fil-A, Home Depot, Capital One, Facebook, twilio, stickermule, fly.io and The Martha Rivers Ingram Commons at Vanderbilt.
Check out the complete gallery of VandyHacks IV projects.