Retired ME professor, sailing coach remembered for patience and passion for how things worked
Johnny Hall Dunlap, a Vanderbilt University alumnus and professor emeritus of mechanical engineering known for his devotion to students, died June 17 in Nashville. He was 85.
Dunlap earned his bachelor's degree in engineering from Vanderbilt in 1953, graduating magna cum laude. He was offered a teaching position in 1955 while performing engineering research at the Argonne National Laboratory in Lemont, Illinois, and he earned his Vanderbilt master's degree in 1956. He maintained his professorship while completing his Ph.D. in nuclear engineering at the University of Florida in 1967.
A model airplane enthusiast and tinkerer, Dunlap also served as a longtime coach and adviser to the Vanderbilt University Sailing Club. He built and sailed his own catamaran.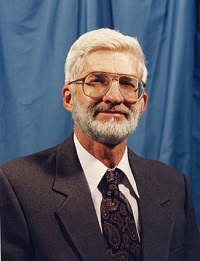 His former colleague, Professor of Mechanical Engineering Alvin Strauss, called Dunlap the most dedicated engineering teacher he's ever seen. "I'd often walk past his office and see him helping a student having a hard time with the material, then walk back hours later and see them still in there," Strauss said. "He was tremendously patient with students."
Dunlap was creative and talented in the laboratory as well, once designing and building a log splitter, Strauss said.
Professor Emeritus of Mechanical Engineering John Williamson said Dunlap designed a wind turbine experiment to be completed in a subsonic tunnel to teach students about operations efficiency. The two men led students through the experiment every year.
"The department was very small when he started, so he taught a lot of different coursework," Williamson said. "He was very thorough and always wanted to know exactly how things worked, and that passion was passed along to countless students."
Dunlap retired from the university in 1998.
He was a philanthropist, deacon and Bible study teacher who attended Otter Creek Church and Belmont Church.
He is survived by his wife of 62 years, Mary Burton Dunlap; his children, Cindy MoonRose, David Dunlap and Scot Dunlap; seven grandchildren; and two great-grandchildren. Preceding him in death are his parents, Alice Hall and R.L. Dunlap; an older brother, George Dunlap; and his twin brother, Julian Lee Dunlap.
A memorial service will be held at 6:30 p.m. on Thursday, June 29, at Belmont Church, 68 Music Square East in Nashville. Visitation will begin at 5 p.m.
In lieu of flowers, memorial donations may be made to Agape Nashville by visiting agapenashville.org.
Media Inquiries:
Heidi Hall, (615) 322-NEWS
heidi.hall@vanderbilt.edu