Knowledge on demand shapes technology's future in education –Schmidt Lecture Nov. 15
As education technologies continue to converge, the 2018 forecast is for an exponential pace of technological change.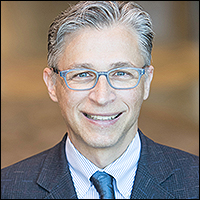 Students today effortlessly connect to the tools, methodologies and strong communities that can and will nurture their innate curiosity, said David E. Wilson, a popular speaker who leads a global team at National Instruments responsible for defining and promoting the software technologies of NI's platform in education and industry.
Wilson will deliver the School of Engineering's Schmidt Family Annual Educational Technologies Lecture on Wednesday, Nov. 15, at 4:10 p.m. in Featheringill Hall's Jacob Believed in Me Auditorium. A reception will follow in Adams Atrium at 5 p.m.
Wilson's lecture – Knowledge on Demand – is open to the university community.
"We have witnessed active learning evolve from sequential instructor-oriented methods to an on-demand, knowledge-when-you-need-it paradigm in a relatively short period of time, thanks to the Internet and the democratization of education," Wilson said.
Wilson believes there is still a fundamental case to be made for learning in a sequential order – building up a foundation of knowledge critical to any education.
"But, educators today are teaching a generation that does not precede each lesson with 'when will I ever use this?' Instead, they are asking, 'How can I begin to solve my problem now?'"
Wilson will talk about the possibilities of this new paradigm. "What is the impact of this concept as it relates to science and engineering disciplines, and how do we integrate it into the learning process?"
The focus of the Schmidt Family Annual Educational Technologies Lectureship is to explore advances in digital learning and their applicability to innovation and practice in the Vanderbilt University School of Engineering." Douglas C. Schmidt, associate chair for computer science and professor of electrical engineering and computer science, and his parents, retired Navy Capt. Raymond P. Schmidt and Roberta R. Schmidt, created the lectureship.
Contact: Brenda Ellis, (615) 343-6314
Brenda.Ellis@Vanderbilt.edu
Posted on Wednesday, November 8, 2017 in Douglas C. Schmidt, education technology, knowledge on demand, Schmidt Family Annual Educational Technologies Lecture,Alumni, Electrical Engineering and Computer Science, Home Features, News, News Sidebar