Love Circle energy park to reach 5 years of continuous operation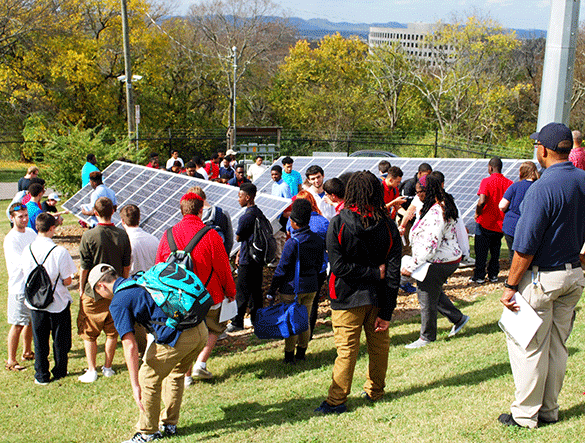 On Tuesday, Aug. 1, 2017, the renewable energy pilot facility atop Nashville's Love Circle will complete five years of continuous operation. 
A joint venture between the Vanderbilt School of Engineering and Metro Water Services, the public service project features a wind turbine and solar panels. It is a field training point for Vanderbilt engineering students and field visits for Metro Nashville School district students.
"Apart from being a showcase project for the community, it also provides training in alternative energy production and project management to mechanical engineering undergraduates through the Energetics Laboratory program," said Amrutur Anilkumar, facility director and professor of the practice of mechanical engineering. "Metro students often make field trips to the site and they are always enamored by the sight of a wind turbine humming away."
"It's important that people can see the wind turbine moving. It is clearly visible from West End Avenue," said Anilkumar, who designed the energy park.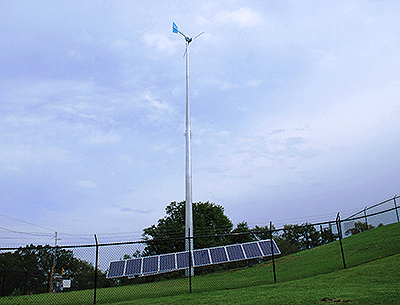 "When we began searching for a suitable site, we were fortunate to find the Love Circle hilltop within earshot of the campus so we could have direct 'line-of-sight 'data transfer from the facilities. Anilkumar and his students began monitoring wind speeds at the site in 2009, before proposing the project to Metro Nashville Government officials.
Anilkumar said a small but efficient and quiet 3kW (kilowatt) turbine was chosen based on the proximity of homes on Love Circle, neighborhood aesthetics and noise. Love Circle hill is one of the highest points in Nashville and the wind speeds at the hill are high enough for wind power generation, especially during the months November through April.  The solar panels are most effective in the May to September months. The 3kW wind turbine, complemented by solar power of 4.8 kW capacity, was commissioned there in 2012.
On Aug. 1, 2012, the Tennessee Valley Authority switched on the energy facilities. "During the first week the solar panels generated 118 kWh and the wind turbine 16 kWh of green energy," Anilkumar said.
The original goal was to generate about 30 kWh of electricity, which is the average consumed by an American household on a daily basis. "Over the last five years, we have consistently achieved about 70 percent of that goal," Anilkumar said. The green energy generated at the site returns to the Nashville Electric Service grid and Metro Water Services is beneficiary of TVA green energy credits.
"When I take visiting faculty to the site, they all admire the uniqueness of the field site, its easy accessibility and high educational value for engineering students, along with the immensity of project engineering challenges for a university," said Anilkumar.
A website provides up-to-date information on the power produced with cumulative information on the daily, monthly and annual yields from the facility. It also has useful links to other green energy resources.
Contact:
Brenda Ellis, (615) 343-6314
Brenda.Ellis@Vanderbilt.edu
Twitter @VUEngineering