Mechanical engineering students devise locking system for Nashville public art
When the Nashville Public Art Program commissioned a series of artistic bicycle racks, city officials did not expect vandals to remove one and stick it up in a tree.
Outright theft was another problem. Maintenance presented still others. When a rack needs attention, workers have had to break up concrete mounting posts or try to repair and paint the rack at the site. Those approaches have been difficult, inefficient and costly.
A team of 2017 mechanical engineering graduates tackled the challenge for a senior design project. Alexander Plevka, Aisyah Areena Zainal Abidin, Benjamin Streeter, Khairunnisa Aqilah Md Ridzuan and Emily Entrekin designed a locking mount to so city workers easily can remove future decorative bike racks or similar public art pieces and take them in to the shop for repair or repainting.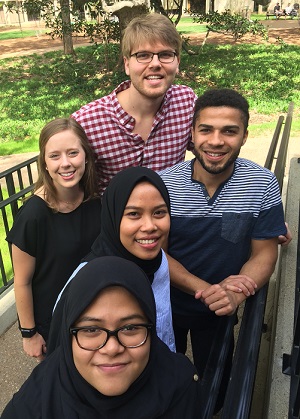 Anne-Leslie Owens, a Nashville Public Art project coordinator who worked with the team, said their plan made sense.
"They get a lot of wear and tear. Paint chips off and the metal starts to rust. One bike rack ended up in a tree," she said. "There are a lot of different maintenance issues, and we learned we needed a better system to install them."
A problem must be defined before it can be solved, and the idea didn't come to them right away. With the city's entire public art collection to consider, the team decided to put their focus on the maintenance challenges of the unusual bike racks, which include some shaped as sound waves, flowers and even a banjo.
The Vanderbilt team's creation went through four iterations of design, test and build. The final design features a sealed lockbox on a steel rod set in a concrete cylinder. The box fits into a compartment in the middle the cylinder, which will be flush and not visible, allowing for workers to remove and reinstall the smaller bike racks and artwork as necessary. The device has the potential to cut the city's costs on such projects by half.
"It has been great for us," Owens said. "I can see this design getting broader use as I look at other projects."
The last of the commissioned bike racks was installed this spring at the Sounds stadium, but Owens said the design also will work for MTA and Police Department needs, such as crowd control and road closure barriers.
The Public Art Program itself continues, and the School of Engineering team also created a series of infographics that any creator who submits a proposal can use.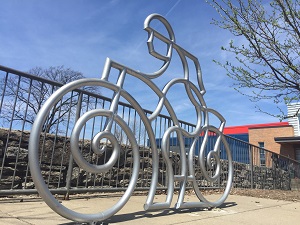 "We definitely saw a need for more communication between artists and engineers," Streeter said.
The visual aids include best practices in prepping and painting outdoor art before installation as well as a separate piece that shows how the removable mount works.
"We ended up with a very simple design," Plevka said. "For longevity, simple is better."