Two ME undergrads from same lab named Goldwater Scholars
Lauren Branscombe and Joshua Fleck have much in common.
Both are juniors in mechanical engineering, focused on medical robotics. Both work in Biomedical and Assistive Technology (BAT) lab with Karl Zelik, assistant professor of mechanical engineering, physical medicine and rehabilitation, and biomedical engineering.
Both plan to pursue a Ph.D. in mechanical engineering, continue research and improve the lives of people with limited mobility.
Branscombe and Fleck also have been recognized in this year's Goldwater Scholars competition. They are among a group of 240 scholars selected on the basis of academic merit from a field of 1,286 mathematics, science and engineering students nominated by colleges and universities nationwide.
A third Vanderbilt student, David Zhang, was named a Goldwater Scholar as well. He is a sophomore from Clarksville, Tennessee, majoring in physics, mathematics and computer science.
Each year Vanderbilt's Office of Honor Scholarships may nominate up to four outstanding sophomore and junior students for scholarships awarded by the Barry Goldwater Scholarship and Excellence in Education Foundation.
Having three such scholars selected in the same year is notable for any university. Two in engineering is rare; two from the same engineering lab is remarkable.
But by all accounts, these students are remarkable. Branscombe and Fleck conduct research at the level of graduate engineering students. Faculty members who've worked with them cite high levels of initiative, determination, commitment, and focus.
Fleck, from Bradenton, Florida, said he knew he wanted to develop robotic prosthetic devices early in his high school studies. Vanderbilt was the only place he applied, somewhat by chance, because a classmate often talked about how great the university is.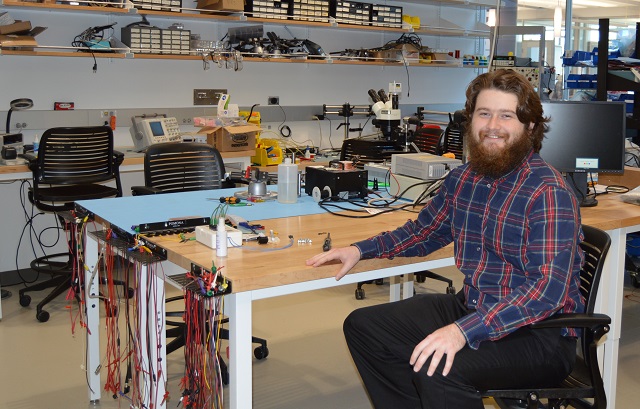 In conjunction with Vanderbilt Stallworth Rehabilitation Hospital, his research has focused on using accelerometry tracking to assess the gait of people with and without disabilities. Last year he attended the Amputee Coalition National Conference in Greensboro, North Carolina, where he gathered data on several dozen amputees. Fleck wants to develop a quantitative tool for testing prosthetic devices and monitoring patient walking performance and hoped to develop a baseline of metrics for amputees.
He came away with much more.
"While the work was very successful – over 40 subjects with a wide range of impairments were tested – and I enjoyed it a great deal, its direct importance to me was far overshadowed by the people that I met there," Fleck wrote in his scholarship application. "They weren't just cases to be categorized and described in a medical journal, but real people with specific and individual concerns and challenges – challenges that I could one day help them to overcome."
Branscombe, from South Windsor, Connecticut, is enrolled the accelerated graduate program and will receive a master of science degree with her bachelor of engineering degree when she graduates. She is working with Ph.D. candidate Emily Matijevich to develop ultrasound imaging methods to measure and analyze muscle-tendon interactions in the human body in real time. This data will aid the development of prosthetic and exoskeleton devices that replicate natural bodily motions.
She knew she was interested in biomechanics and her first foray into research got her hooked. Her project involved designing a new way to fabricate custom leg braces for Bogey, a dog with "elbows" frozen at angles of roughly 90 degrees.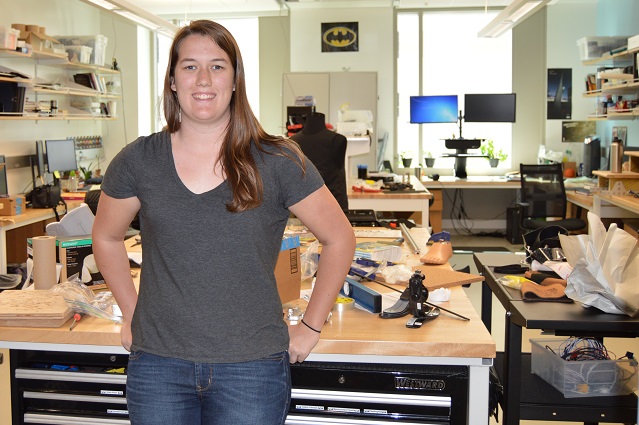 "I found this open-ended problem to be very exciting," Branscombe said in her application. "The fact that the first braces I fabricated were unsuccessful could have been perceived as a failure, but instead I used it as motivation to be more creative with the next iterations of my design.
"Eventually I arrived at a set of braces that enabled the dog to walk normally, and seeing my design have an impact in the real world, even if just for a single dog, was an unforgettable feeling," she wrote.
Her work will help more than a single dog. Branscombe also created tutorials so other students and researchers can use her process to create custom casts as well as braces for humans, too.
The Goldwater Scholarship is the premier undergraduate award of its type for students in science, math, and engineering fields. The selection process is rigorous internally as well as nationally. Applicants must have detailed letters of recommendation from three faculty members.
Branscombe's application was supported by Zelik; Thomas Withrow, assistant dean of design at the School of Engineering and associate professor of the practice of mechanical engineering; and Leon Bellan, assistant professor of biomedical and mechanical engineering.
Fleck's application was supported by Zelik; Gerasimos Bastas, assistant professor of physical medicine and rehabilitation; and Alan Peters, associate professor of electrical engineering.
For more information about this and other scholarships, email Lyn Fulton-John, director, or Todd Peterson, faculty director, in the Office of Honor Scholarships.