Nation's most senior African-American female roboticist in higher ed to deliver Chambers Lecture Sept. 25
As one of the nation's most recognized female roboticists, Ayanna Howard has designed SnoMote robots to study the impact of global warming on Antarctic ice shelves and created artificial intelligence-powered STEM apps to teach children with autism how to play Angry Birds.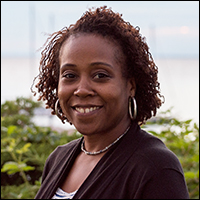 She has overseen nearly 50 projects in a dozen years at Georgia Tech. Her "humanized" robotics and assistive technology research has resulted in more than 200 publications and numerous patents. Her accomplishments have resulted several prestigious awards including recognition as one of the 23 most powerful women engineers in the world by Business Insider.
Howard will deliver the School of Engineering's Chambers Family Entrepreneurship Lecture Monday, Sept. 25, at 4:10 p.m., in Jacobs Believed in Me Auditorium, Room 134 Featheringill Hall. A reception precedes the lecture at 3:30 in Feathergill Hall's Adams Atrium.
The lecture – "Designing Robots for the Future – A Journey from Innovation to Entrepreneurship" – will trace her journey from NASA researcher to professor to entrepreneur. Howard is the Linda J. and Mark C. Smith Endowed Chair of the School of Electrical and Computer Engineering at the Georgia Institute of Technology and chief technology officer at Zyrobotics, a Georgia Tech startup company spun out of research originating from her lab.
Her entrepreneurial experience also includes development of a leading genetic algorithm package and Brainsheet, a neural-network optimization package. Larger companies later acquired the IP for both applications.
"Recently, there has been an upsurge in the attention given to robots and artificial bots, and their inevitable destruction of the human race if we are not watchful. Whether your opinion sits on one side or the other, the fact remains, robots have already become a part of our society," Howard said.
"I'll provide a look at how robots can change the texture of our day-to-day experiences, with an emphasis on health care robotics that can enable a healthier and less stressful quality of life now and in the future," she said.
From 1993-2005, Howard was at NASA's Jet Propulsion Laboratory, California Institute of Technology, where she was a senior robotics researcher and deputy manager in the Office of the Chief Scientist.
She joined the faculty at Georgia Tech in 2006 and served a term as the associate director of research for the Georgia Tech Institute for Robotics and Intelligent Machines, and a term as chair of the multidisciplinary robotics Ph.D. program. A range of agencies including the NSF, NASA, Procter and Gamble, ExxonMobil and Intel has supported her research projects.
Howard received a B.S. in engineering from Brown University, a M.S.E.E. and Ph.D. from the University of Southern California, and an MBA from the Drucker Graduate School of Management.
The Chambers Family Entrepreneurial Lectureship was endowed in 2014 by the Chambers Medical Foundation. The lectureship encourages and invigorates entrepreneurial activity among School of Engineering students and throughout the university community by bringing successful business leaders to share their experiences and offer advice to students on a wide-ranging variety of topics.
Contact:
Brenda Ellis, (615) 343-6314
Brenda.Ellis@Vanderbilt.edu
Twitter @VUEngineering
Posted on Friday, September 15, 2017 in Ayanna Howard, Chambers Family Entrepreneurial Lectureship, Chambers Lecture, entrepreneurship, health care robotics, robotics,Alumni, Biomedical Engineering, Electrical Engineering and Computer Science, Home Features, Media, News, Research