New Career Fair venue, casual company pitches a slamming success
The ubiquitous "elevator pitch" is a standard rite of career advancement. Whether or not it takes place in an elevator, job candidates are told they must be able to describe their awesomeness in two minutes or less.
The Vanderbilt Career Center this year turned the tables on the recruiters. The night before the official Career Fair, representatives seeking to hire engineering undergraduates had 45 seconds to make their case.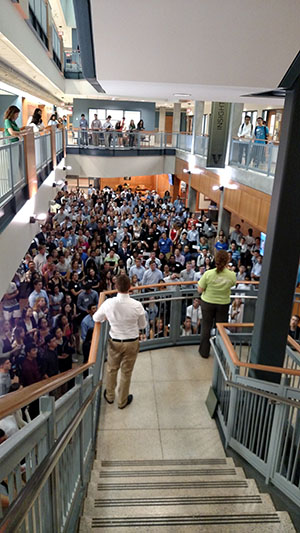 They did so from a stair landing facing the Featheringill Hall atrium, where more 360 engineering students gathered to hear what they had to say.
The first-ever "Engineering Slam" created buzz before and after the event and was so well attended it may need a bigger space next year, said Associate Dean Cynthia Paschal.
"It turned the table on the recruiting companies," she said. "It was less intimidating and a more casual experience for the students."
Company representatives enjoyed it, too.
"I think it was a great opportunity for us to share about the National Instrument brand and have students experience our culture in a more casual setting," said Brittany van Gelder (BE '15), a program manager on National Instruments' Hardware Services team, based in Austin, Texas. "We met a lot of great students during the event."
This was her first time recruiting at her alma mater, and she loved it.
"The students were great," van Gelder said. "We met a lot of really strong candidates, and we enjoy coming back every year. This year, we were recruiting for our Engineering Leadership Program."
For that role, National Instruments considers candidates with engineering majors as well as those with physics majors.
Career Services officials said 1,750 students came to the Vanderbilt Recreation and Wellness Center field house to meet with 117 employers at the general career fair. In addition, some 436 students participated in walk-in "blitzes" at the Career Center to prepare for the networking opportunities.
The Career Fair itself was open to all Vanderbilt undergraduates and moved to the Rec Center field house – a far roomier setting that the Student Life Center ballroom, where in years past the crowds made movement and conversation difficult.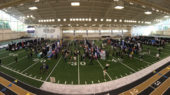 The event is a homecoming of sorts for many School of Engineering alumni, who represent their employers with the advantage of understanding Vanderbilt students and the campus culture.
CapitalOne, Change Healthcare, CGI, Chevron, Deloitte, Epic, ExxonMobil,  FedEx, Microsoft, NRT, Putnam, QSMI, RTI, Triumph Group, Skanska, and Walsh Construction were among the many other companies with alumni representatives. So was Clark Construction, which had a contingent of three or four  Vanderbilt engineering graduates.
Michael Thomas (BE '13) returned to recruit for the fourth time. He's a project engineer for Clark Construction in Washington D.C., directly managing certain trades and their subcontractors. Vanderbilt, he said, prepared him well.
"Engineering is all about problem solving- given, find, solution. As construction project managers, planning the work and solving problems is what we do," Thomas said.
Clark Construction was recruiting for its entry-level position, which, though open to all majors, is most popular among civil and mechanical engineering students.
But Thomas had some sage advice for any candidate. "Enthusiasm for the task at hand is what matters most," he said.
Posted on Thursday, September 21, 2017 in career, Engineering Career Day, engineering undergraduate, recruiting,Alumni, Biomedical Engineering, Chemical and Biomolecular Engineering, Civil and Environmental Engineering, Electrical Engineering and Computer Science, General Engineering, Home Features, Mechanical Engineering, News