Riding an old gray mare, BME student rounds up rodeo wins
Kaitlyn Ayers started riding lessons at age 9 and got her first horse when she was 13. Now a biomedical engineering junior, she has two horses and has been winning amateur rodeo events with Cocoa, who is older than she is.
Cocoa is a 25-year-old gray quarter horse, now almost white with age. But the mare shows no signs of slowing down – she and Ayers recently won two events at rodeos in Missouri – pole bending and goat tying.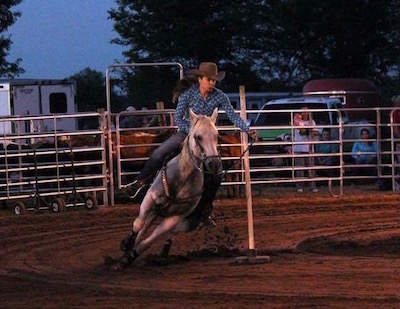 "Cocoa absolutely loves her job. She's figured out when the announcer calls my name it is our turn to run," Ayers said. "At this point it has become such an automatic thing once I let Cocoa go I don't really think about anything."
Ayers, who is from Sikeston, Missouri, began competing through 4H. She didn't plan to continue rodeo events while studying at Vanderbilt but decided this year to enter two local series held at the Rusty Spur Arena in Bertrand, a short 15 mile drive from her home town.
So once a month from March until October, Ayers made the three-hour trip and put on regulation Western wear that includes a long-sleeve, button-down shirt and a cowboy hat, to compete.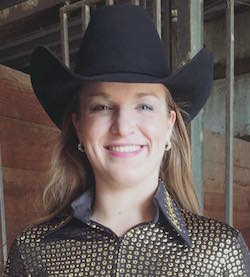 Ayers rode Cocoa into the arena, hopped off, and tied the goat in 19 seconds – a time fast enough to win her division but by no means a record-breaker. "I have a friend who goat-ties in 6 seconds," she said.
For pole bending, six, 6-foot tall poles are placed in a row with 21 feet between each – a standard rodeo pattern. The starting line is 21 feet from the first pole. The rider must direct her horse to weave a serpentine pattern through the poles and then reverse direction and do it again. Any knocked down pole adds 5 seconds to the rider's time.
Precision, yes, but what Ayers enjoys about rodeo is also what attracted her to engineering. "What really appeals to me in both those areas is the problem solving aspect," she said. "If your horse isn't doing what you want it to you figure out why. Then you fix it."
Ayers didn't grow up on a ranch or in a family with a horse-riding tradition. She just knew the first time she saw a horse she wanted to ride. She also knew she wanted to study and major in a STEM field.
Ayers' mother keeps Cocoa and Dually, her six-year-old quarter horse, in shape when she's in Nashville. Vanderbilt was attractive, in part, because she could easily make the three-hour drive home on weekends.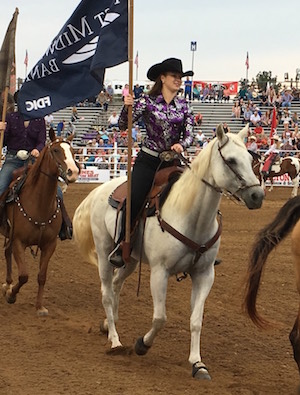 But the foundation in multiple engineering disciplines included in her major sealed the deal.
"I really liked that Vanderbilt has a good combination of other engineering fields in BME," said Ayers, who also is a member of Sigma Phi Lambda and part of the Baptist Collegiate Ministry. "I wasn't really sure what I wanted to do and this gives me flexibility."
She still isn't sure. Nor is she committing to competing in the 2018 series, which would include part of her spring semester as a junior and fall semester as a senior. It may be up to Cocoa, who has plenty of spunk left. Some people compete with quarter horses as old as 28, and Cocoa did have a break for a few years, Ayers said.
"I've been really lucky in having very intelligent and fast-learning horses," said Ayers, who also has competed in rodeo pageants. "Horses have such big personalities. Cocoa has a dominant personality. Dually just wants to be loved."